Garden Sofa Made with Pallets
Well, talking on a lighter note, we westerners are always happy to save some bucks because we are very cost conscious. But there isn't anything bad in that, infact this is a quality that we don't waste our hardly earned money and we respect it. This is great. That why we have created so many ways to save the bucks systematically, and to me the best of them is the pallet wood recycling. Because this is just a marvelous thing, this allows me to design my desired furniture item, this gives me complete control over the dimensions and measurements, and finally it takes the best care of my finances.  Let's make a garden sofa made with the pallets.
Let me be honest before I get started on this specific pallet wood inspiration. I actually borrowed this idea from my friends patio furniture that he bought from a branded furniture store.

So before going into details, I thought it would be better to make the confessions. As I wasn't at all ready to spend this robust amount on a mere patio sitting arrangement so I just worked a bit on the designs and shape, also on the measurements, and then I brought it in my workshop.

Just look at the delicacy and sophistication of this pallet wood recycled garden sofa, this is just outstanding. I mean the bright white stain reflects the light in a pretty perfect manner that escalates the beauty of the sofa.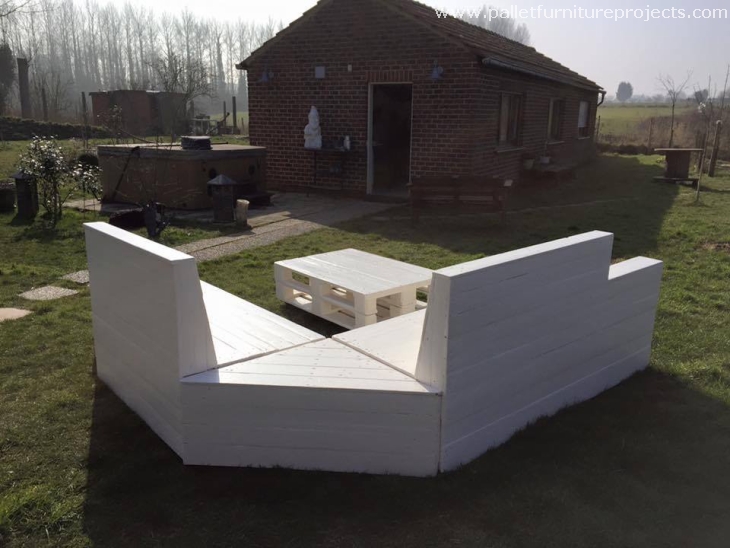 While the stylish backs of the sofa are just incredible, they are not that conventional pattern that is followed in every other wooden sofa design. And the coffee table is also equally splendid, it has got plenty of space, wheels on the base so that the table could be dragged on our desired place.