Giant Couch with Wood Pallets
I know you guys are much influenced form the pallet wood recycling, just don't worry same is the case with me. You know what, whenever I recycle something new with pallet wood, I just have a strange macho type of feeling inside my heart. This is a kind of addiction for me. That's why I never stop bringing some ever new plans to you guys. Here is a giant wooden pallet couch, you just go on counting the seating capacity and you would be lost with the numbers, this is going to be such a huge and gigantic pallet wood couch.
working in my backyard, I just feel like a hero. What's funny in that? I mean a person who is all lost in some constructive activity, who gives immense pleasure to him, his family and friends as well, what would stop him from thinking like a heroic figure?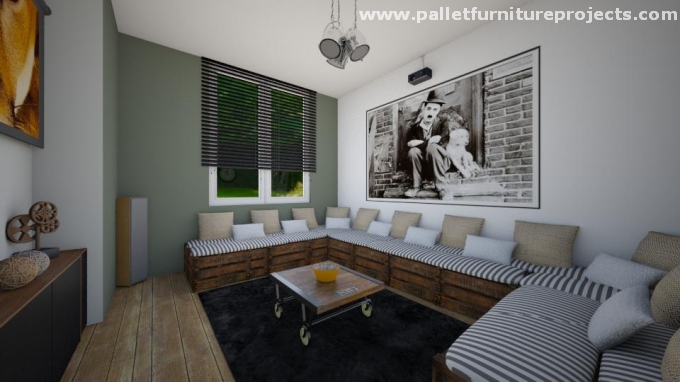 Just think from an artistic point of view pal. So, how far have you gone with your counting? Not yet done? I knew it, we just anticipated that being a huge couch it would entice many of you to make this one in the next lined up projects.

This is a huge sitting lounge. This just can't be filled with some traditional tiny couches, or it would make the place look dull and empty. So this gigantic couch was direly needed here, and we just did it with the same wooden pallets.

Apparently it looks like mere wooden pallets are shaped as boxes and placed together, but it took us full two long days. Being a giant couch we had to make almost a dozen seating spaces on this giant wooden couch. The entire structure is not stained but left pretty rustic, this would be a complimentary touch in a lavishly decorated room.