Recycled Wooden Pallet Couches
A well designed and well built wooden couch could simply be the best thing fir sitting purpose if compared to other wooden furniture items. A couch that is nicely made and finely finished is the substitute of all other wooden furniture items that could be used for mere sitting purpose. It could have a number of designs and shapes that would match your needs according to your priorities and needs according to the available space with you. We are bringing here a bunch of pallet wooden couches that would be the best addition in your house no matter where you intend to place them.
I am beginning with this L shaped curvy wooden pallet couch. Have a look on the shape that we have pursued here, I think this is the couch that would offer the easiest posture to the users while sitting on the couch so even some longer spells of sitting won't be tiring and exhausting at all.

While this is a separate range where we can see a two seated couch along with a single seated. The good thing about these pallet wood recycled couches is that they have got the sitting space that is simply more than spacious.

We also see a tiny pallet wood upcycled table right in the middle of the couches. This is a multi layered wooden table that can ideally be used as a centre or coffee table. To maintain a similarity we have prepared all of them using the same sort of shipping pallets.

And here comes something that is direly needed in every house hold no matter how small or big is that. I mean a house won't be complete unless it is not equipped with a proper wooden furniture range. And a furniture range won't be complete unless it is not having some fine wooden pallet coffee tables.

We are showing you each wooden pallet article from pretty close just to show you the basic idea and quality of the wood that is obtained from the shipping wood pallets, and I think each aspect of the wooden pallet furniture items is pretty satisfying.

Finally we did something to make the couch more comfortable and classy. We have placed some slim mattresses that were certainly bought from the market. I think this isn't that big expense that would stop you from recycling these pallet wooden upcycled couches for your patio.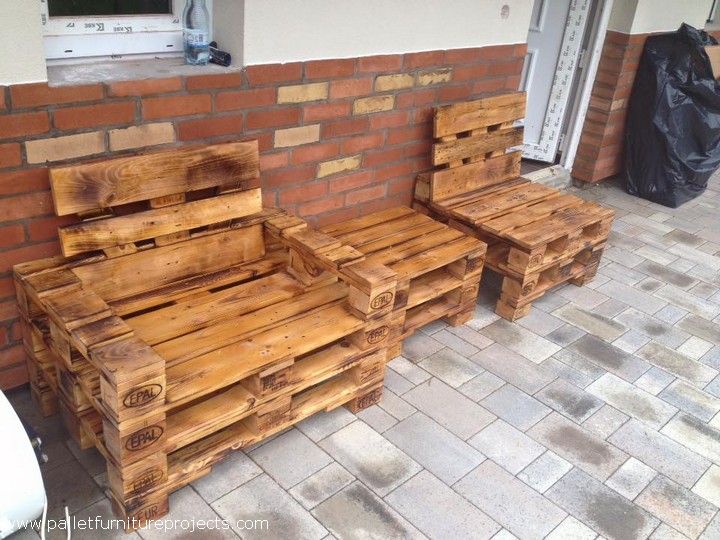 Created & Submitted by: Raklap Bútor Paks