A garden shed hut would literally be taken as a simple single storey roofed structure in a back garden or some other allotment that we normally use for storage, hobbies, or simply as workshop. Well, these sheds might vary according to the complexity of their structure and design. But the one thing that is pretty established that these shed are much loved in west. People use them for their multiple needs. This is a source of some secrecy and privacy, sometimes when you feel like enjoying your loneliness. Here are some really cool and inspiring pallet garden shed huts that you might consider to be the one you intend to work on in future.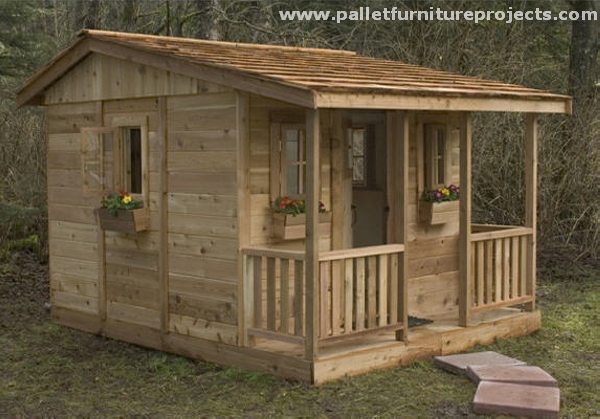 We are beginning with this ultra smart and simple garden shed hut. This is a simple shed hut having two different entrances, it has got the essential holes for the ventilation on the front wall and a proper window on the inner wall.

This is again a simple and rustic wood pallet shed hut. The declining inward roof along with huge and high walls have got the simplest design and shape. No complex additions or carving is done on the shed. Just like a small tiny side room away from the main premises.

While coming to the next one in our time line, this one seems to be an improved and modified huge garden shed hut. This is quite similar to the main entrance of a full fledge house. It has got a huge front door, ample space for windows, and a rustic smart deck on the front.

Wow, this one is a real beauty among others. This is apparently a caravan turned into a wood pallet shed garden. The design is a bit complex, as there is a main entrance with an extended stair way leading to the main shed. But despite of all anticipated fatigue it is worth it.