A kitchen is the main power house of any living home. As the three time meals are cooked here so this is probably one of the most important places of a house. We have already given a number of ideas and inspirations relating to the kitchen setting. Today we have brought you a pallet kitchen island. What exactly do you conceive from the term kitchen island? For me this can also be a called a kitchen on wheels as we are going to install some built in wheels in this kitchen island. Well, this is just a kind of huge furniture item which you can use for multiple purposes, just the way you assent.
This pallet thing has literally spoiled me. As I know that I am going to get the timber free of cost or even against a few bucks, so I just keep planning to work on numerous insane and un common ideas. But the moment I am done with that, I always end up collecting huge appreciation and admiration as the pallet projects prove to be pretty economical and handy to make, so every one gets attracted towards the inspiration. And I am more than sure that you are going to love this pallet kitchen island.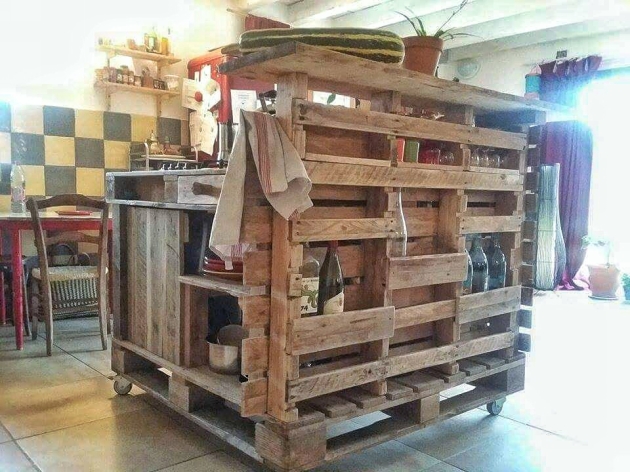 Look at the structure of pallet kitchen island, it has got a built in gas stove, plus a number of spacious cabinets along with many racks. These rack extensions are best to be used as utensil carriers, while rest of accessories could be put inside the cabinets. So this is just like a walking kitchen due to its acquired wheels. This kitchen island is recycled using some raw and deteriorated wooden pallets yet it is a great addition to your kitchen. Bring it home by upcycling and grab all the appreciation and love from your lady.