Shelves Made with Wood Pallets
Some decent wooden or concrete shelves are need of every well designed and planned architecture whether it is home or some office or even some other commercial place. Shelves are a source of storage hack, this provides you with plenty of space where you can put many accessories that can't be placed inside already available options. Shelves are also a great place for the display of delicate decoration pieces. So I believe that making shelves with wooden pallets would be really a very great idea. Shelves are need of every house so I think everyone would be so damn interested in it.
This is not necessary that the shelves are always having some complicated design with multi storey complex structure. A shelf could also be as simple as this one. A simple straight wooden slab on a rust wooden stand to support the slab, and that's it.

Any installation that is installed in the wall must be very smartly built as it is focused by every visitor in the house or shop wherever it is installed. Just like this beautiful and long wooden pallet wall shelf. We have fixed some metallic hooks as well, where we can hang some of our accessories.

If you are some art loving person then trust me this one is absolutely your cup of tea. This wood pallet wall shelf with some rough and random design is a display hub of your expensive and delicate decoration pieces that you are always desperate to show to your visitors.

While living in some rural or countryside setting, you can resort to such simple and rustic wooden pallet wall shelf ideas where the simple broken and deteriorated wood pallet planks are used in making this wall shelf. Despite of the broken timber, this is still an effective art craft that can be represented.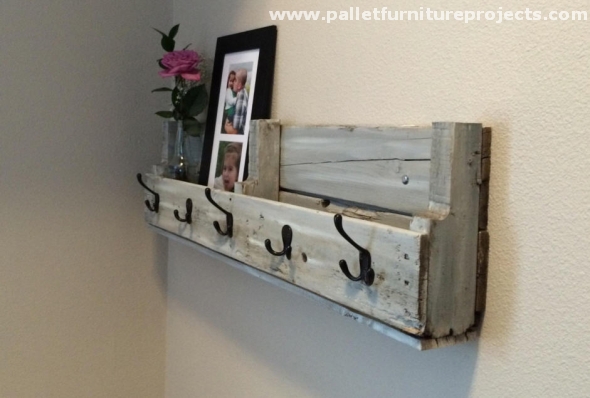 Wow, you just don't need to add or subtract anything from this rustic wooden pallet wall shelf. This is simply perfect for the ones who like wood art crafts especially for the ones who are art fanatics and like such crazy crafts. Display your jewelry on it and impress your friends.

And this is simply crazy, I mean this is so rough, it literally looks like just some random wood pallet planks are grabbed and they are pasted along the wall without any properly designed sketch. Make this one in your domestic workshop where you can display your tools so that it is easy to grab one that you need.

This one is simply cute, apparently this one is made from some fresh wood pallets. This one is a perfect wood pallet wall shelf where you can place some mini stereo system, or some stationary or a bit of some decoration stuff.

You just need to develop a certain taste for such smart wood pallet creations. Or otherwise this could have been a rustic and broken timber for you simply. Just by using some deteriorated and broken wood pallet planks, a lot of bucks are saved.