Upcycling the tables with wooden pallet planks has always been an exciting thing for me. This is because the tables hold damn simple designs, so they are totally handy to make. And also with some slighter changes and modifications, table becomes a whole new article. Other than that there are also many other potential causes, because the tables are the need of every house. In a well managed and organized home every room and portion of the house needs a different table. Even in outdoor spaces you need one, in your patio and green landscape as well. Here are a number of pallet recycled tables that might suit your needs, so make your pick.
Well, this is a vintage table that has got the metallic frame on the base of it. We can clearly see that the metallic frame is made of very pure and strong wrought iron, this is probably reclaimed from some old furniture item. While the rest is done with the pallet planks.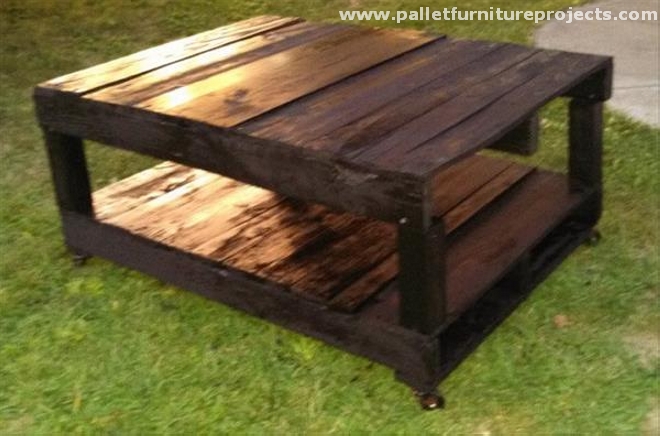 Here is a multi tiered wooden pallet recycled coffee table for your lounge or room. The design and shape is pretty decent, the upper top can be used to place a glass or some remote or may be a book, while the lower one can also be consumed for storage space.

This is again a wooden pallet recycled table with the reclaimed lower frame. The metallic frame is made with iron pipes molded and bent with fine skills. While the top is obviously upcycled with the same shipping pallets.

So, what are your comments about this one? Well, this would be best used in some outdoor spaces like garden or the patio. Because the design of this table isn't pretty appropriate for being used as mere side table. Now the specific use of this table depends on your needs.

Going to have some party or some celebration at your place? Well, you must be very well prepared and sufficiently equipped with all the necessary furniture items because the guests are not going tolerate any flaws or deficiencies in the arrangements. These pallet wood recycled tables would be a great remedy for outdoor functions.

Now this is a simple small wood pallet repurposed table that can be used indoor and outdoor as well. The good thing is that this can also be used as stool for shorter whiles. And recycling this one is also pretty simple.

And here comes something classy for a perfect room interior. It has got all the artistic features that can best be exploited while using indoors. The strong metallic frame is giving a slight industrial touch, while the robust and thick pallet planks make it harder for tougher jobs. Recycle it for your lounge and make your impact on the guests.

On the end, here is a whole range of furniture items that make a comprehensive sitting plan for your patio or garden. Being specific about the table, despite of its simple design this is still a perfect wooden pallet table that is equipped with all the desired features.