Reclaimed Pallet Wood Bar Table
When it was the last time when you went to the downtown to have a peg? Mine was probably last night. What really attracts and appeal us in a bar? Its specific atmosphere and personalized surroundings so that we could relax there. But another noticeable feature is the specific long bar table that attracts us a lot to sit around it and have our favorite brand of drink. This long durable bar table is especially designed keeping in view several perspectives of the venue. So we have plans to bring this wood bar table to home by recycling it with the wooden pallet. Yes this is the inspiration of the day. Make your own bar at your very own house with pallet wood and you do not need to go anywhere at all when you would be having all the facilities right at your home.
Pallet wood is so handy to use that it is even easy for the beginners. As it comes free of cost and can also be used as the basic material in the making of several furniture items. So today we have plans to make a wood bar table that is totally made by repurposing the pallet wood and nothing else as the basic material. All you need is the basic know how of wood work and certainly some very basic tools. And if you need to stain it according to your choice, you can stain it with your favorite color or with the one matching to the rest of your furniture.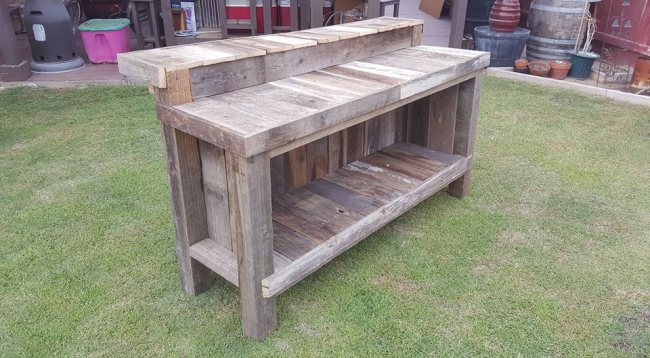 Having a deep look on this bar table we realize that it provides ample space to place your wine glasses on it. While there is also a lower table portion where your server would be making his part of the deal. This is a multi purpose bar table upcycled with wooden pallet.