DIY Pallet American Flag Bench
Well, to be honest, this idea of a wood pallet bench with an American flag is basically borrowed from a family friend who is an ex marine. He is literally so much obsessed with the love of mother land that he has got the flags printed on all of his accessories. His customized couch, his coffee mug etc all are carrying the flag. And I think this flag is the main component that is going to make this bench look extra ordinary or else there's nothing anything exclusive that we didn't try in some of the earlier pallet wood creations.
Like all the projects first of all we collected a bunch of some fresh shipping wood pallets and then we have disassembled them very carefully. Despite the scars of nails the planks yet look quite fresh and acceptable as timber. Gather them at one place and they would be used when needed.

This is the very first raw shape of the wood pallet repurposed bench. Here we had to deal with the pallets differently like for the planks we needed in making the back, we had to make them round perfectly to follow this specific pattern, while in arm rests and legs again we had to do some foiling, cutting, sanding and shaping.

Once you are done with the basic frame of the bench then it is all set for the flag to be drawn on it. Well, now again making the flag in itself is an art. For this place a flag in front of you so that you could strictly follow the pattern.

Be very specific with using the brush when you are drawing the flag on the pallet wood recycled bench because just a little mistake could put the entire project in shambles.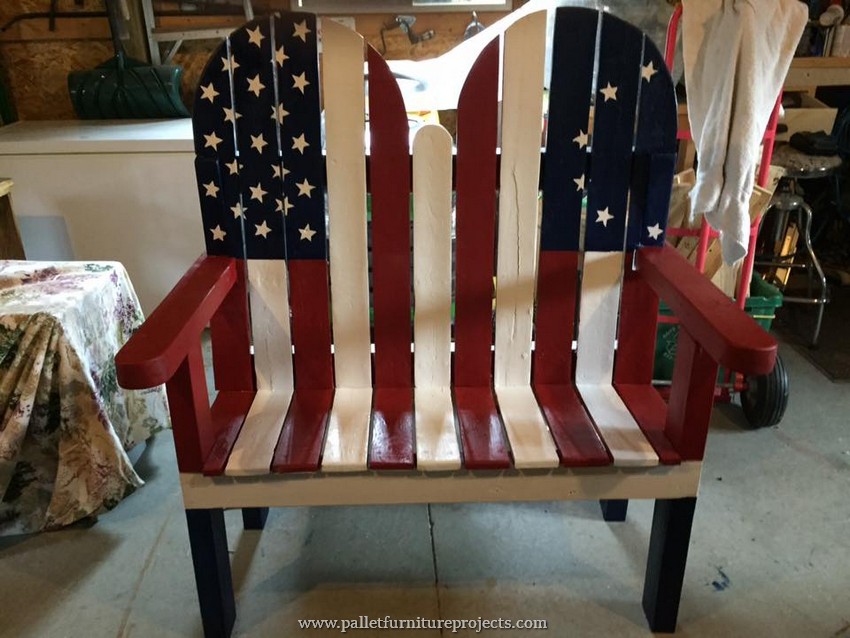 Created & Shared by: Jim Champagne‎