Outdoor Pergola Lounge Seating with Pallets
A number of projects have been done on outdoor wooden pergola. Pergolas are installed inside lavish houses and bungalows. This installation shows a certain class. Hundreds and thousands of bucks are spent on making these traditional pergolas, but we have recycled them with wooden pallets just against some minimal costs. Here in this article we would be talking about outdoor pergola lounge seating with pallets. Or in simple words we are going to make a whole and comprehensive sitting plan with the pallet wood, it would escalate the view of wooden pergola and would provide the entire family with sufficient sitting space.
Let's have a distant look of the pergola lounge seating plan. We have got here a couple of wooden pallet couches which are apparently six seater. We have also got a couple of centre and coffee tables made using the pallet planks.

This is a glimpse of the pergola pallet wood sitting plan from the other angle. We would be in a better position to comprehend the plan. There are also a couple of stylish single seater couches or stools. They are pretty wide in size and also maintain the same rustic look.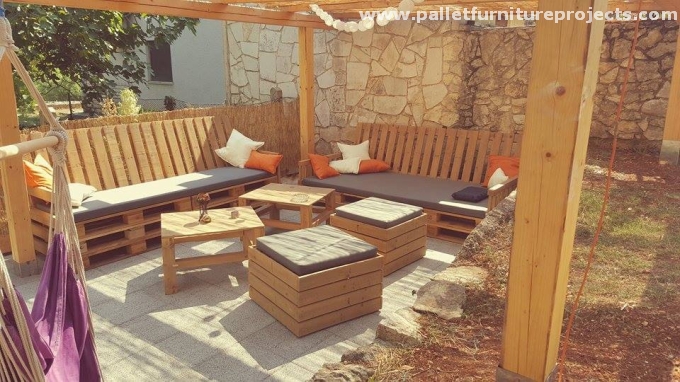 So in a conclusive manner we can safely say that this pergola sitting plan can accommodate seven to eight persons at one time. If we had gone for market based furniture items, it would have cost us quite high, but here they are absolutely free except some minor basic expenses.

This pergola lounge seating inspiration is meant to make you guys familiar with the wonders that can just happen with the pallet wood. We strongly recommend you people to show some interest and you would be having plenty of benefits by pallet wood recycling. This seating plan is a small demonstration of the said fact.