30 Ideas To Reuse the Dumped Pallets
I know there have been a whole era when the people considered these wooden objects called pallets as mere bunch of trash and they just wanted to get rid of them as soon as possible. Whole piles of shipping pallets were trashed and were often found beside the highways and other isolated areas. Since the wood pallet recycling has come pretty very much in fashion, now people are realizing their importance. We are introducing some 30 ideas to reuse the dumped pallets that were meant to be simply thrown away. I hope you guys enjoy the plans.
The very first question of many is going to be that why this contradiction and contrast in this furniture range, and the answer is straight and simple, we just wanted it to be this way… just kidding guys, both furniture articles were recycled separately but placed here together.

Do you see this uniform look in the entire wooden pallet repurposed furniture range here? Yes, that was done on purpose. Although the wood pallet wall shelf is a bit nasty still it counts like a perfect one as it has got much space to offer for the storage purpose.

Don't get nervous for this one guys, this is basically a wood pallet upcycled BBQ table with all the essential portions. We have just cornered it temporarily but it becomes the epicenter of entertainment whenever we are having some get together at our place as this brings us many scrumptious foods and meat steaks.

And this wood pallet bed was so damn easy to make as we see no complex pattern or some un due extensions here in the whole design. This was kept pretty straight and simple so that it could offer very casual space for the family members being an informal wood pallet furniture article.

Same is the case with this wooden room bed. Actually this is multi purposed furniture item that could be used for various purposes. Like you can use it as a spacious dining table. Don't look at the bad quality of the wood pallet but concentrate on the usefulness.

I am really touched by the artistic roughness of this wood pallet furniture range. Like we see a very amateur staining of the pallet wood repurposed furniture range. This looks pretty perfect for the kids especially I guess, but don't worry the adults would also equally enjoy.

Now come towards this simple pallet wood upcycled coffee table, don't consider it to be a mere simple wood pallet coffee table but actually this is a whole package where  a lot of storage space is also offered by this wooden beauty. There are several portions right beneath the table top where a lot of stuff could be placed.

Looking at the fineness of this smart pallet wood upcycled large table we can easily conclude that this was probably made for some official use. Here too we see an atmosphere where probably some official discussion is going to be commenced.

Okay, these round iron made pots could be confusing for some out there, so let me make it clear. This is actually wood pallet corner grill table. This belongs to the BBQ table family which is again related with the food and outdoor get together where this wooden pallet table is going to be the centre of focus.

Again we haven't done anything extra ordinary in the making of this pallet wooden couch. This is long and quite spacious yet it carries very simple design. The only thing we have done is a little exploitation of lights here.

Don't think as if this was supposed to be a wall shelf. This is a kids craft stand where they would display the material that purely belongs to them. So this is basically a kids oriented wood pallet furniture item so make sure that the pallets are not contaminated at all.

And here comes a very decent pallet wood upcycled wall shelf. It has simply got it all that makes it look perfectly decent and sophisticated. The design is simple, and above all the shade that we have chosen for this is simply amazing. Display some of your favorite decoration pieces here.

This is clearly a farm house that is constructed in a remote countryside area. This could be concluded seeing the wide spread space of the house. That is why we had to make a great deal of wood pallet creations here. This whole wooden deck and the entire furniture is made with the same timber.

Isn't this one a completely different wood pallet couch from the rest that we have recycled so far? Yes it is man, but I really like the main concept behind this wood pallet inspiration. The sitting space is same however the back is made in a very strange manner that still looks nice.

And again in this wood pallet repurposed strandkorb chair we have used the same typical pattern that is usually associated with this certain wooden furniture item. And the choice of staining is also made very wisely making it look a perfect furniture article.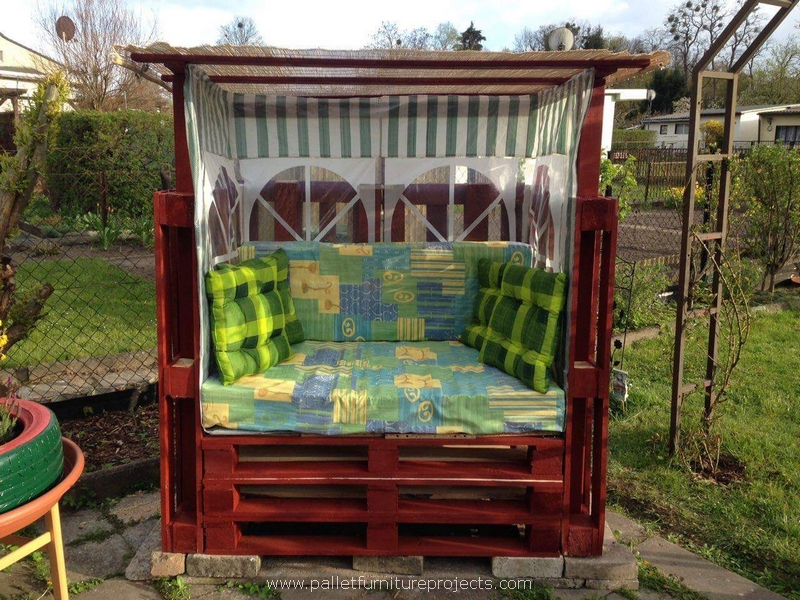 A pallet wood coffee table is a complimentary wooden furniture article that literally completes any furniture range. Without a proper table the entire range seems as if it is incomplete and ugly. And when this kind of pretty wooden pallet table would be added, just imagine how perfect it would look there.

Initially we were just willing to install here a simple wood pallet wall shelf, but later on we realized that it would be good if an additional feature of the key rack is also added here. So this has become a whole package for the room interior.

This one seems like an ultra luxurious pallet wood made couch cum day bed. Each and every aspect of this specific furniture range is simply perfect. The wood is stained with best shade, and the cushions and couches also seem like high fi and expensive range.

My goodness, this seems like a grand pallet wood project where some larger supplies of the wood pallet would have been needed. This garden shed is simply classic, this has given a new dimension to the green landscapes. This isolated wooden compartment would give you some of the best moments.

This is a tiny apartment with some congested livable space here. So we had to make something that didn't capture much of the space as we couldn't afford it. So we just resorted to this slim side or hallway table which has got many drawers for your valuables to be preserved here.

Apparently this seems like a debating dice but actually it is not. Infact this is a vertical raised garden with a slim chamber on the top where certainly only one kind of plant could be planted at one time. But from the aspect, this is also a perfect garden décor idea too.

This kind of long and slim serving tables are usually seen on some highway hotels and restaurants where we stay for shorter times for having a cup of coffee or maybe a drink. And we have brought this atmosphere right at home to enjoy the same feeling right inside the house.

This is a simple wood pallet made bed. This could have possessed many complex patterns and some fancy touches, but we just wanted to keep it as simple as possible. So we simply made a straight and simple frame of the bed, and a simple headboard that just gave it a fine simple look.

These Adirondack chairs are going to make your patio a livelier place where whole of the family would be sitting in some part of the day to enjoy some food and the gossips. They would offer you the easiest postures to be enjoyed for longer spells.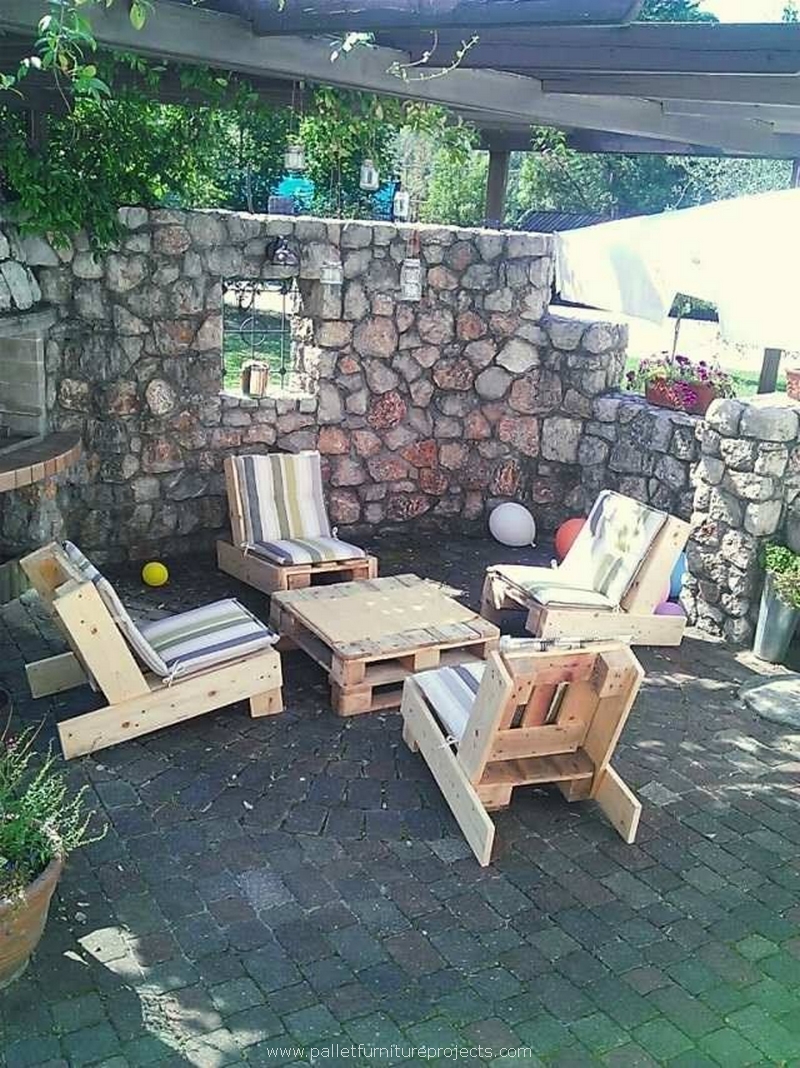 This enclosed space is actually a pallet wood made patio cabin, a cabin where a couple of people could easily be accommodated to have some fresh air while sitting here in the open. All the fencing throughout is done with the shipping wood pallets. A great idea I guess.

Whenever we have to make something especially for the outdoors like garden or the patio, trust me the very first thing that comes to my mind is a wood pallet bench. This looks cool man, this gives us an informal sitting space where we can sit the way we want.

In this entire long recycling range I was feeling throughout that as if something is missing, and here I have found that. Yes, these round tops reclaimed from the wooden cable reels that we frequently use in many of our creations. Table top is made from the cable reel, while the base is all made with wood pallet planks.

Even in the end I am ending the tutorial on something that is so damn cute, it would compliment your room interior, it would look excessively smart, and would ensure the safety of your desktop in any case.