Pallet Outdoor Furniture Sets
What exactly do you expect from some outdoor furniture items? I mean how exactly they must look like? Well, being a bit straight forward, first of all they should be pretty cheap. They should be big, and huge size wise. They should be quite durable to endure the extreme weather conditions outdoor. They should be painted very beautifully to make the view look cool. So can we safely expect all these potential qualities form pallet wood outdoor furniture sets? The answer is a big yes. As we are going to present here some of the best pallet outdoor furniture projects. And you would be able to observe all of these qualities generously in them.
Just look at this sophisticated sitting arrangement created inside the patio of a lavish house. The large corner couches which are left unstained, they just create a perfect atmosphere in the patio for a formal sitting.

If you want to create some casual atmosphere in your garden or patio, the sofas or couches should also be designed accordingly. As we did here in this project, this four seater couch made with some fresh pallets. And the wood pallet coffee table in the middle is again a reflection of skill and expertise.

The next one is again one of the best wood pallet recycled outdoor furniture sets. The whole rustic wood pallet outdoor furniture set consist of several important furniture items like couches and wood pallet coffee table. One of them has got the metallic reclaimed legs just to add an industrial touch.

We have mentioned this fact so many times that no matter how rustic, broken and deteriorated pallets do you have in your collection. If you are a true crafter you can make the best use out of them, as we did here in making this rustic wood pallet outdoor couch.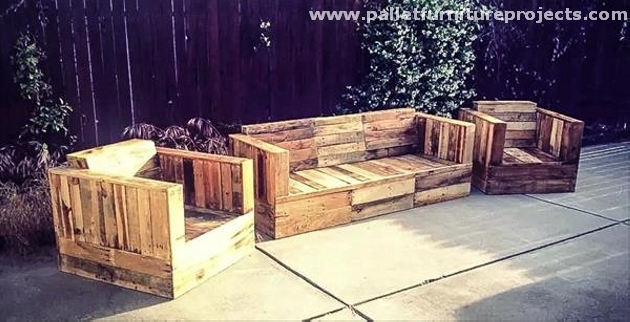 If you have a sufficient collection of wood pallet couches in your backyard and you are also well versed with the wood pallet recycling, you can come up with such elegant wood pallet recycling ideas. These large wood pallet couches, coffee table and deck are an incredible project of wood pallet outdoor sets.

Though we haven't paid much attention to the beautification or embellishment of the outdoor wood pallet sets. But in this one we have made some special arrangements in this regard, we equipped this outdoor couch and table with ultra luxury mattresses.

Another smart and sleek outdoor set is recycled using the wooden pallets, the design is simply outstanding. The huge and spacious seating spaces are literally reflecting a royal look out of this wooden furniture set. And a great contrast of white mattresses is giving a whole new dimension to the optics of this unique sitting arrangement.

Whenever you feel like spending some time outside with the family members or friends, your patio or garden must be well equipped with multiple furniture items where all of them could be accommodated. But if you are not in mood to make some larger expenses on buying these outdoor furniture sets, just recycle them with the wood pallet.

Design modifications have always been a major subject in the upcycling of pallet wood. But this is the quality of this pallet thing that you have the complete control over your creation. You can shape and mold it right in the way you like.

Just like this simplest outdoor furniture set reflects the simplicity of your taste and mood. This is a perfect outdoor furniture set for a family despite of its simplest design and rustic appearance. The height of table makes this set appropriate for eating purpose too.