PALLET WOOD OTTOMAN is a useful piece in all homes. "Ottoman" means a footstool or a low upholstered seat covered completely by fabric. Initially the wooden ottomans did not have legs but were placed directly on the floor. They were box like equipped with storage space under the seat. It has a non fixed lid. Later, hinges were fitted with the uplifting lid. They have a variety of sizes and shapes. Modern day pallet ottoman are more functional or luxurious, and were covered with fabrics and leathers. They are most commonly found in the bedroom, bathroom or in living rooms to store sheets and bedding, dirty linen and clothes or to store papers and magazines respectively.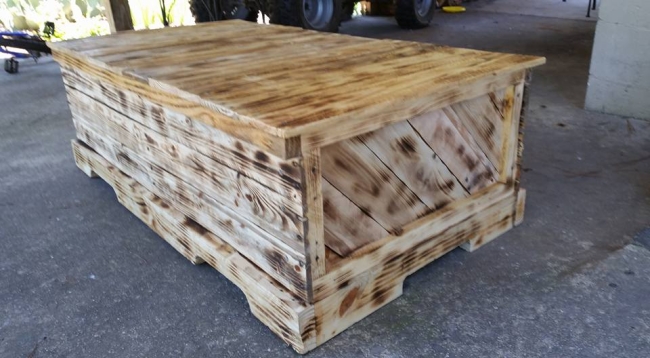 The pallet projects are ruling the creative world these days. There are many ways in which the pallets are being used to make various pieces of furniture as ottoman. It is a convenient and economical way of having the furniture of ones own taste. The recycled pallets can be arranged and created in several creative ways to adjust your style. The reclaimed pallets have to be chosen carefully so that they are not very old. The old ones cannot sustain the making process. Sanding the pallets is significant for a smoother look. The size and shape of pallet ottoman can be adjusted according to the structure.

The reclaimed pallets can be given any structure and size by mixing and matching new and old ones. The ottoman will look great if the used pallets are sanded for smoother look. All the sides must be measured and joined together as per image to give a rustic appeal.  The space to store must be adequate enough to hold your things. The hinges must be used to attach the lid to the storage compartment. All sides of this ottoman are varnished to give a brighter look and appeal. The pallet wood ottoman can now be kept anywhere in your home as per your need.
So collect some pallets and happy palleting.