Wood Pallet Punisher Skull Adirondack Chair
Ok guys, before I present you the today's pallet wood article I would like to make a comment that I am going to offer here a wood pallet punisher skull Adirondack chair that is customized in such a manner that this could be pretty nasty for some of the users like we have carved in a caricature or shape of a skull which is for sure a horrifying object for the living human beings. But on the other hand a good thing about this pallet wooden customized chair is that we have drawn the flag of the country to reflect the patriotism.
I think the very first and close appearance of the Adirondack shaped pallet wood chair is pretty impressive. First make a comment on the sleek and stylish back of the chair which probably is the main theme of the wooden pallet furniture article.

Having a look on the back view of the chair the pallet wood crafters would realize some of the technicalities that are beyond the understanding and comprehension of the common users. Look at the deep holes and the wooden slabs how delicately they were cut to the size and then finally assembled.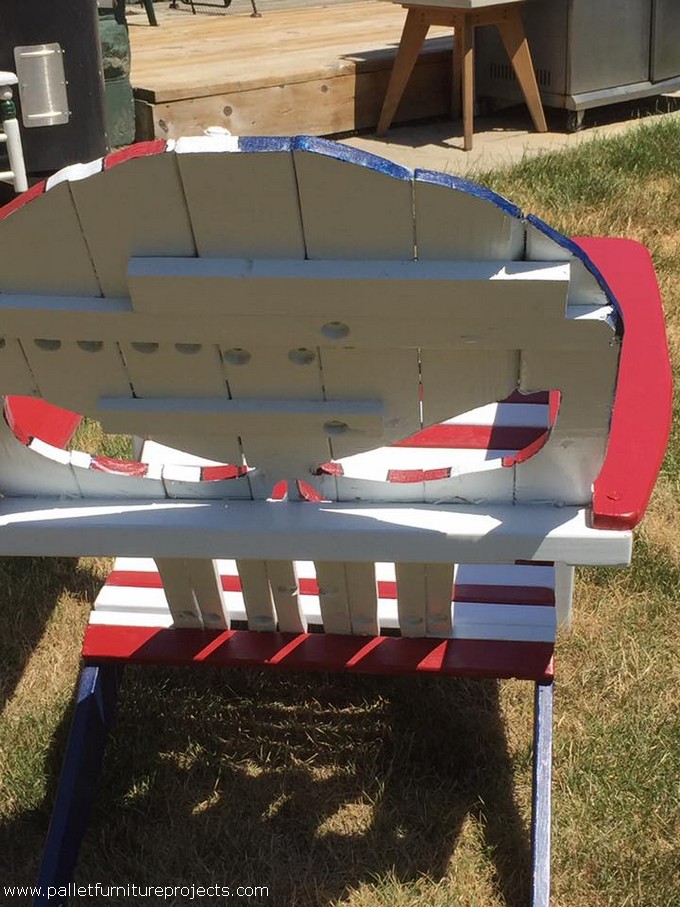 And this is the final and frontal view of the customized pallet wood upcycled chair. I am just loving the way this wooden beauty is created. This is an amalgamation of demonstration of fine skills along with the depiction of the patriotism which is badly needed in every fellow American. I think this would remind of the sanctity and divinity of this beautiful flag while sitting on the chair. On the other hand if we talk about the comfort level that is also unmatched because this would offer the easiest posture and you will not get tired no matter how long you are going to sit on this splendid wooden pallet creation.

Created & Submitted by: Jim Champagne