Recycled Pallet Patio Furniture Plan
Do you know why we emphasize so much on the patio and its decoration? Well, in the west the majority of people are confined to mere compartments having such a congested space where sitting I the patio gives a open feeling like breathing in fresh air and enjoying the beauty of nature in the surroundings. We have delivered so many patio plans where we have presented some comprehensive ideas including the wood pallet patio deck and the furniture as well. Today we have again brought a recycled patio furniture plan that is suitable for all patios, so have a look at it.
We are beginning with a frontal look of this pallet wood upcycled furniture range that what exactly it consist of and what materials are used in the entire recycling process. So this is pretty clear that only the shipping pallet wood is used in the entire range.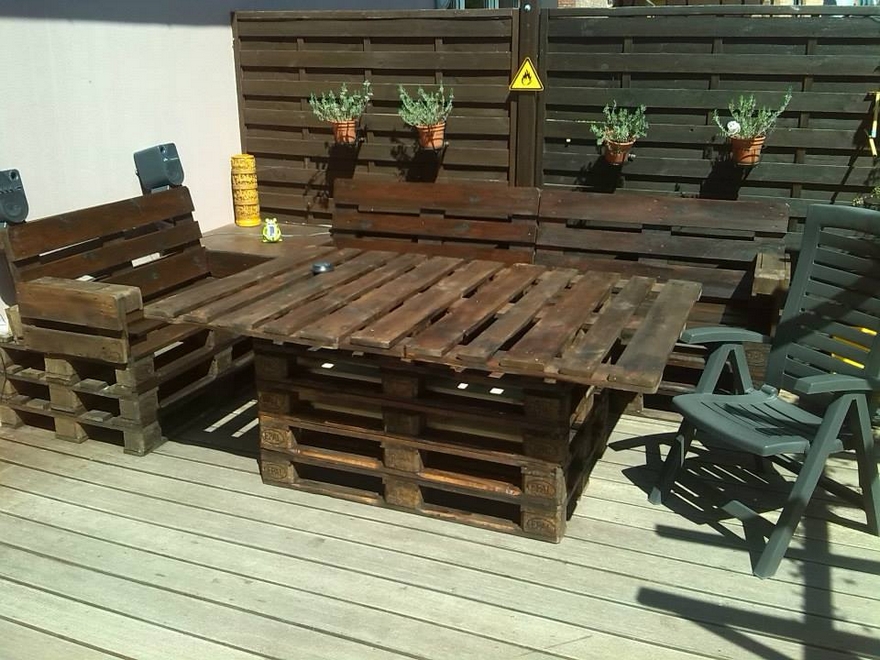 We have got here a long couch range in two units, both are obviously shaped matching to each other. The bigger one is spacious enough for three persons while the next one is meant for two persons at a time so this is a complete couch setting for five persons.

If we talk about the centre table, this is excessively huge and quite different from the conventional ones that we normally see around us or recycle. Many whole shipping pallets are used in making the base of the wood pallet table, and this could also be used as a perfect dining table as well.

As far as the quality of the wood pallet is concerned, we can clearly see that the shipping pallets are quite aged and deteriorated. But this is a potential quality of the shipping pallets that as they get aged, their certain shade keeps getting darker to add more to its outer beauty.

Created & Shared by: Michael Schröter