Hall Way Tree Made with Pallets
As we have had enough of work on the patio, balconies, garden and other major portions of the house. We presented some scrumptious wooden pallet recycling ideas, now we are turning towards the hallway. It isn't so that we have completely ignored this part of the house, we have prepared many hallway tables. But this time we are going to try out something different. We are going to upcycle a hallway tree using the same timber that we always have with us, the wood pallets. This hallway tree would take care of many of your domestic needs for which we spend a lot of money sometimes.
Wow, I am already impressed and driven away with the outlook of this smart wooden pallet creation. This was probably inspired from the conventional dressing table that is used traditionally. Almost all of us have these dressing tables in our bedrooms.
But don't you dare getting confused with that traditional dressing table, nor are we intending to place it in bedroom either. We are recycling this pallet wood hallway tree and this certainly would be placed in the hallway. The mirror on the front would may be help you with combing sometimes.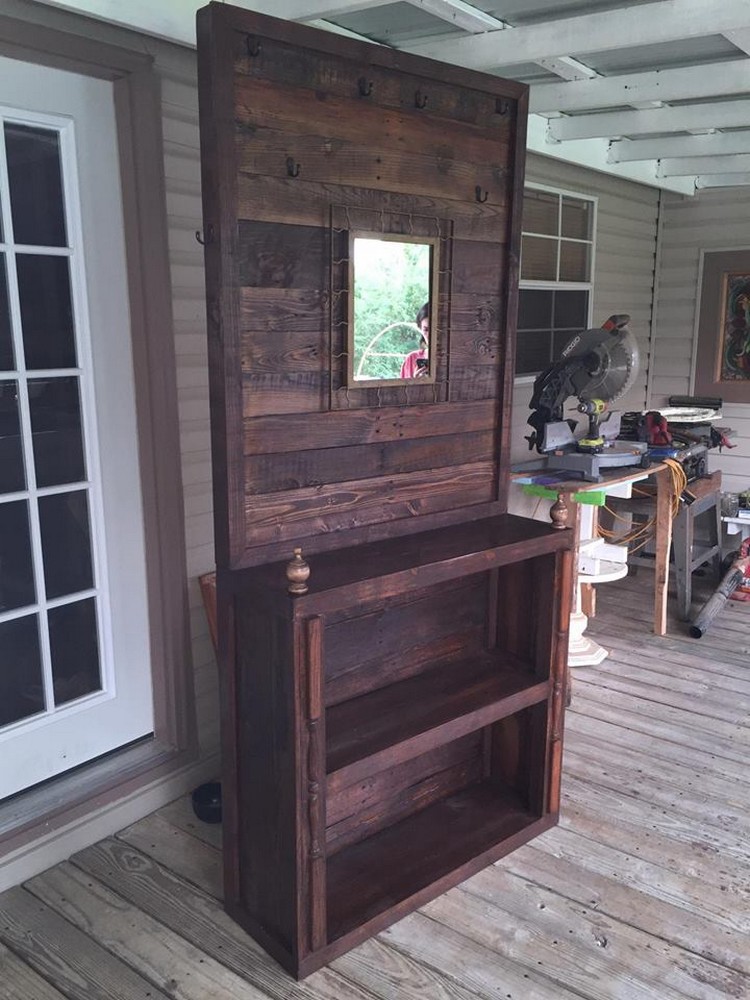 Look at the different portions that we have created deliberately, like it has got multiple tiers. The lower space is further divided in two portions separated by a wooden slab or divider. So one thing is pretty obvious that these spaces might be used for placing different decoration pieces.

We have done another creative trick here, we have installed multiple hooks on the top where caps and some other such accessories would be hang while crossing the hallway to the bedroom. So in short this is a whole package embedded with beauty style and utility. This really deserves a try.

Created & Submitted by: David-Wanda Wicker‎