Pallet Islands / Buffet Tables For Your Kitchen
Pallet islands are not new for all the smart wood pallet art crafters as we have presented a number of wood pallet island ideas earlier on this platform. And the good thing was we had very positive feedback from all the subscribers. In this article we are going to emphasize on wood pallet islands, and some buffet tables for your kitchen. Looking at their different shapes and designs, you guys would love to grab one out of them immediately. So put all the other activities aside and for a moment, ponder on these stylish kitchen islands and buffet tables.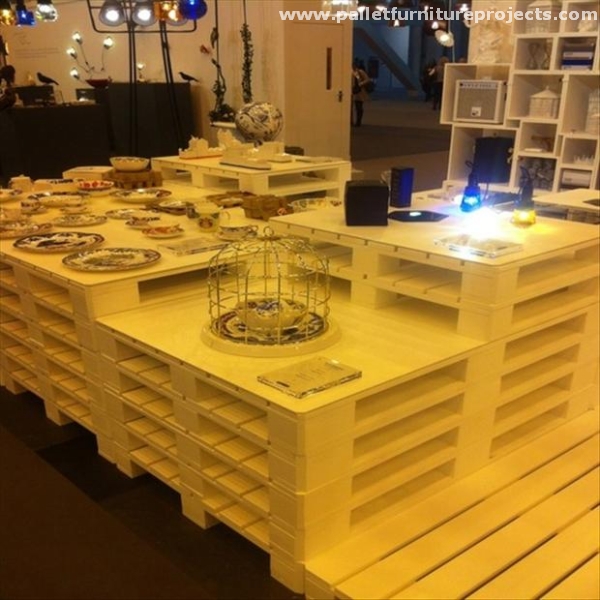 Just to keep the beginners tuned, we decided to get started with this super easy and rustic kitchen island. It was left pretty unstained, it is designed with ample additional storage space making it a perfect kitchen installation. So undoubtedly a good one to begin with.

In the next project, we wanted to keep it again as simple as possible. We made this with the intent to place some of the kitchen accessories like cutlery, some dishes and common utensils. This in not just a common wooden table, it has a built in rack on a side for some additional accessories.

This one is a again a solid example of a perfect wooden pallet kitchen island. This is placed on a corner so that much of your space is not occupied due to its huge size. Despite of all its size, this is still worth being placed inside the kitchen as it would be catering your several needs while working in the kitchen.

Well, you can get the kitchen island this much big if you have got a spacious and bigger kitchen. So just depending on its size, it would be more useful for you having more segments and spaces for different tasks like it can have built in stoves, a built in sink and a number of racks.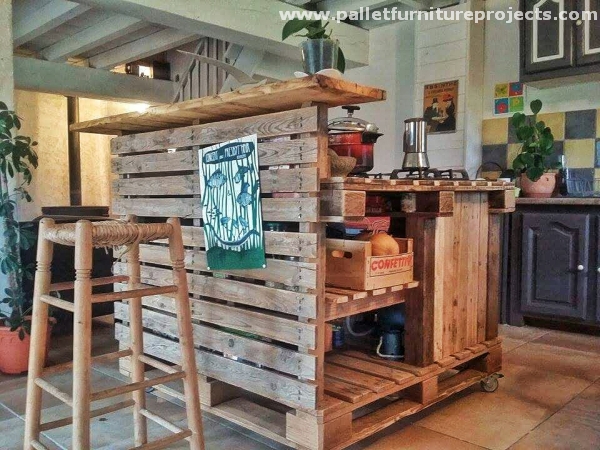 Sometimes you want to keep your kitchen excessively simple, away from all the messy stuffs, so in that specific situation this one could be your perfectly smart pick. It has got a built in electric stove, a built in sink, and plenty of space right below the table where you can arrange all the utensils and accessories.

Each kitchen island here in this project has its own pros and cons. Like this one could be a bit bigger one comparatively, but looking at the built in options that you are provided with, this is undoubtedly an ideal one.

Now coming towards the next kitchen island, this one shows that if you want to keep it quite rustic and rough, you can keep it this way. This is a simple wood pallet kitchen island with no additional installations like stove or sink, so this can perfectly be used as a kitchen mobile cabinet as well.

Have a look on this adorable kitchen island cum buffet table. So having a nature of being multi purposed, we still kept it quite simple. This is rather a multi layered kitchen island that has got plenty of space for the storage purpose.

I know you guys are already figuring out that which one would suit your priorities but let me add, this kitchen island could be perfect for some picnic or some outdoor event especially in the night time. With the special intent of using it outdoor, we kept it unstained in its rustic appearance.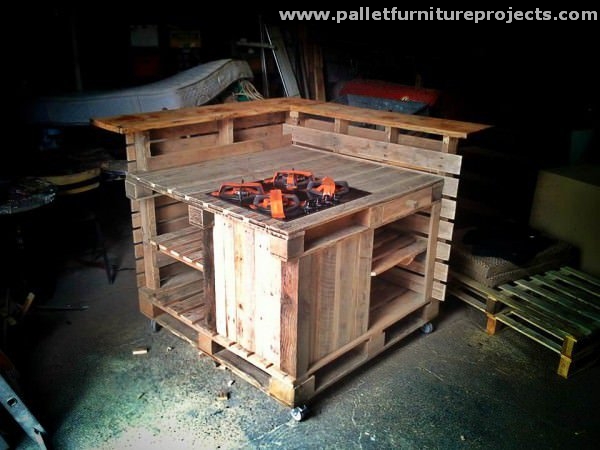 And I think this last industrial kitchen island equipped with some vintage metallic wheels on the bottom is meant for some special audiences. The ones who are art fanatics, because it would be a bit harder for naïve ones to absorb this sort of stuff.