Pallet Street / Public Furniture Ideas
There was a time when people didn't take the pallet wood recycling seriously. They were just of the view that this pallet wood recycling stuff is mere waste of time. But as the time kept passing and some fanatic crafters like us kept working on the shipping pallets, the entire world seemed convinced and more and more people started getting inclined towards the shipping pallet recycling. At this time, there is a massive use of pallet recycled items even in streets and on several public places. And the biggest reason is the cheaper costs of shipping pallets. Let's have a look on some pallet street or public furniture ideas.
Just spare some time for looking deep inside the pros and cons of the pallet wood recycled furniture items and you would be amazed by the fact sheet. They really do a great job while being used in some wooden furniture items.

This apparently seems like some waiting point for a cab or may be a tram. So the public administration would have thought that why not to put the shipping pallets on the work, it would save a lot of money and would also look great at the same time.

We know that while planning some public accommodation plans, we need everything in bulk because we are talking about facilitating the masses. And when it comes to the quantity it relates to the finances. But if you switch to shipping pallets, the expenses would just stay as low as you never imagined.

While arranging some exhibition or some public event, you would again be countering the issue of accommodation of the people on a larger scale. Thing about recycling different furniture items with shipping pallets and save a lot of your money with your skills and smartness.

So, we were talking about some mega projects recycled with shipping pallets, and here comes the one from the said list. How would you define this public furniture plan executed with shipping pallets? Whatsoever is done for recycling this mega project, this is simply massive, a great one without any doubt.

Sometimes you can also use the same furniture designs that you used earlier for your home décor, but still they need to be big because they are meant to be used by the masses. So we did it correctly, we recycled these extra large wooden pallet benches for the public.

If ever in your life you think about recycling some public furniture items are to be installed in the streets, I think the shipping pallets would be the best option for you. You can make all the crazy wooden projects with the shipping pallets and use them according to your will.

No other material on earth would give you so much ease in the matter of finances while dealing with wooden furniture items. This is the blessing of shipping pallets that allows us to manipulate the shipping pallets according to our desires and make the most appropriate furniture items for us.

Look at this unique rustic wooden pallet recycled furniture set up made for the outdoor spaces. Each wooden couch or bench is different from the other. One is along with a planter, one is pretty straight and simple, and one of them is inspired from the Adirondack shaped chairs.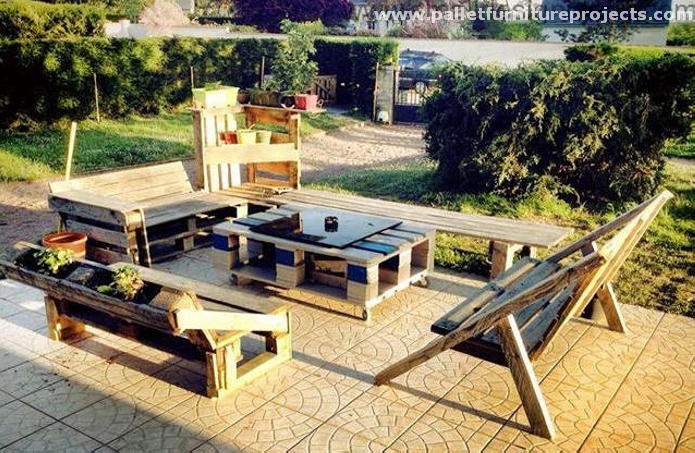 Right now we are focusing on the pallet projects for the public, and here is a whole range of recycled pallet wood furniture items. Couches and tables along with wooden benches. All of these furniture items are the creation of pallet wood. And all is made possible with the same shipping pallets.

If any one of you is running some café or a restaurant, I would insist to go atleast once for the wooden pallet recycled furniture items and then just have a critical look on your cash flow and you would be amazed. Your renovation expenses would literally fall down below your imagination.

All of the pallet wood crafters can understand the ease and charm of pallet wood recycling. They come free of cost, they give us complete control of the manipulation of shipping pallets. And we can shape and design them just the way we want.

Wow, this is a grand pallet wood repurposed Adirondack inspired couch. Just look at the grand size of the couch, this would be a perfect remedy for the time when you are dead tired with your work. Just come out in the open and sit on this mega couch to feel like a king of self built empire.

Here comes a large pallet wood dining table along with easy benches. Apparently this seems like the pallet planks are painted with white color but actually this is the stain that pallets contained earlier. If we talk about the shape of dining table, this is quite enough for the entire family.

As we were focusing on public projects recycled with pallet wood, so we have maintained a certain decorum throughout the recycling projects. We have kept them pretty big just like this range of cable recycled wooden couches. They are quite big for a number of people.

Now this is some sort of domestic furniture range that is purely recycled with the intent for domestic use. We see five similar pallet wood couches all lying in the patio, they are gain pretty grand in size so they give royal look to the place.

Turning again towards a typical pallet wood recycled public project, here are meters long wooden pallet benches all fixed in a line. Their shape is quite typical, straight and simple. While the armrests are made using the metallic stripes. Though this can take a number of days to recycle, but the good thing is their cost effectiveness which would over shadow all the hurdles and complications.

These sleek tables and benches are just a sample to show that this sort of furniture installations can best be used in some public places and streets. Capturing minimum space, they would allow maximum people to be seated at a certain place.