Pallet Made Patio Dinning Tables
While going through these entire patio oriented wooden pallet furniture ideas, one might think that why we exactly focus so much of the patio based wooden furniture ides. Well, that might be a reasonably great idea ofcourse. Well, I strongly believe that patio is one of the most important spaces inside the house. We can turn it into an ideal outdoor space just by equipping it with some ideal furniture range. That is why we have focused this place so much throughout our creative campaign. Here we present a pallet made patio dining table.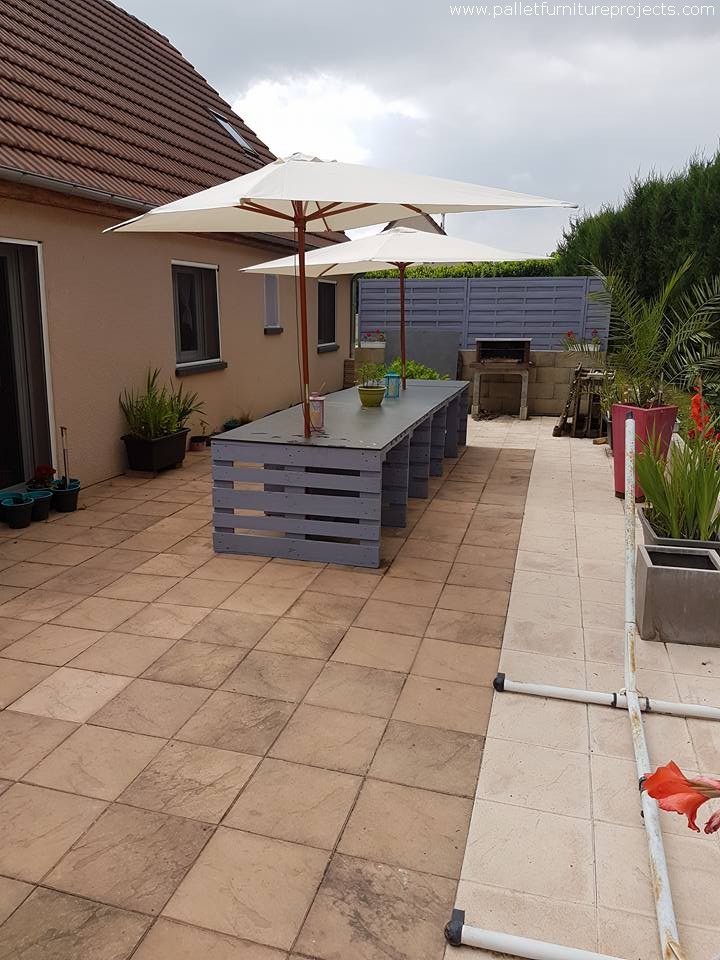 Here we have added some images of the stage when the dining table was in its pretty initial stages, like we can see the rustic touch and dingy texture of the wood pallet dining table. This is a long wood pallet dining table where we have employed a number of whole shipping pallets.

Do you see the area that is covered here with this long and gigantic shipping wood pallet dining table? Isn't that are a bit excessively huge for a dining table to cover up? That is why we have used some large supplies of the wood pallet to ensure that the whole space is reasonably covered.

In the second last step we had stained the whole dining table. We made the color selection very cautiously as well. A light grey shade that is ideally suitable for the outdoor spaces. And on the end we have covered the spaces of shipping pallets with flat wooden sheets. That is done with an intention to not switch from the wood. And the set up is completed, all the guests are invited here as large number of people could be accommodated here at the same time. This would allow an ideally great posture to the users while they are going to be served.

Made By: Celine Regazzoni‎