The basic concept of a day bed is probably borrowed from the west. A day bed is meant to be such a furniture item which is pretty un conventional and different from the common bed in shape and size as well. A day bed which is usually smaller in size relatively, is meant to be placed outdoors most of the times. So in this discussion we would be discussing about numerous day bed plans which would be recycled with the pallet wood. For instance the very first project here is a unique shaped daybed upcycled with wooden pallet is a complete package.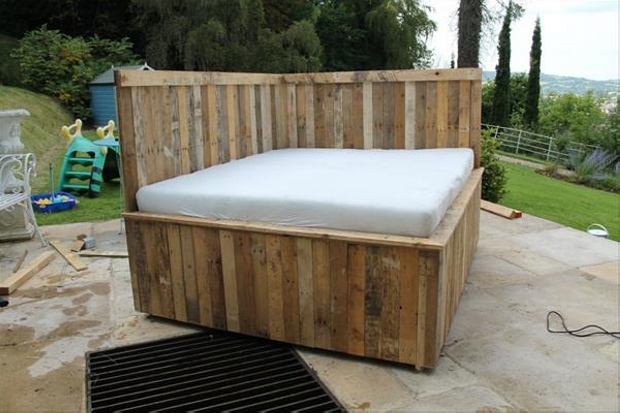 Coming towards the next day bed plan that is also recycled with the wooden pallet. The basic concept remains the same that upcycling is done with the pallets, but we can witness and additional element, that are the iron pipes we had used in several art crafts earlier. These iron pipes are drawing a boundary around the pallet day bed, and it has also built in metallic wheels which make this pallet wood daybed completely mobile. So you can drag it on the place of your ease, you can drag it where ever you wish to without applying much force.

Here in this plan we come across some conventional day beds that we frequently see in our surroundings. These daybeds are also totally recycled with the wood pallet, and nothing else is used as basic material in their making. This daybed has also a matching bench or a sofa. Having an easy back probably best for the sun bath. It is designed for the accommodation of one person at one time. Double layer of pallets is used in the basic lower structure which make it pretty strong and durable to carry even the heavier weights without any flaw.

The next day bed plan is probably the simplest one. As here we can see that only the basic lower structure of the daybed is recycled in this idea by wooden pallet. So this is more like a straight length of wood which is pretty high from the ground having no supports or back. It was probably designed quite in accordance of its place, where the wall is being used as the support or the back of daybed in this idea. It also has a matching coffee table which is pretty similar in color and height as well but short in length.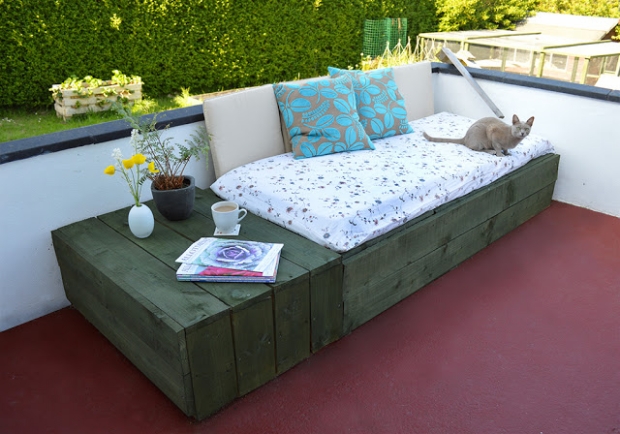 Our next day bed is damn cool, it is overloaded with immense style and beauty. Though entirely structured with the pallet wood, this daybed plan is so damn appealing that it immediately grabs all the attention of the visitor. This daybed is stained as blue which is considered to be a boyish color especially associated with males, but not necessarily only for the men. In this idea built in wheels are also used in the day bed recycled with wooden pallet making it easily mobile. This is a real piece of beauty and a best addition to your furniture collection so far.

Last but not the least is a huge rough day bed plan that is pretty big in its size. In this idea, the daybed is designed to accommodate two to three persons at the same time easily. Single layer of pallets is used in the base structure making it not too high or above the ground. This is certainly a family day bed. Though not stained or varnished, still its rustic look is pretty fascinating. Place it in the garden to have sun bath or even in the patio for a family reunion, in every way it would serve you in the best manner.

More daybeds plans made with wooden pallets: