Kids Projects with Wood Pallets
I think enough of work has been done with wooden pallets on domestic wooden furniture items, so I have a strange feeling to take a break from the typical wooden furniture items. This time we thought to bring some projects for the little angels. Kids who make our lives worth living. We so desperately love our kids and we are always ready to do something good for them. But today, we planned to do some good work of kids projects with pallets. Here we are presenting some projects appropriately designed for the kids with different color schemes and certain designs.
The very first wooden pallet project here for kids is made with some special color shades which are especially associated with kids. This fish  shaped wood pallet table along with tiny stools are very skillfully made to make the kids happy. They would just love to sit on this colorful sitting arrangement.

It is pretty common that kids love to enjoy swings in fun lands and other kids parks. So this would be simply a great idea to get them a swing made with wood pallets. And here in the project you can see a classic example of wood pallet swing made just for the kids.

Small things always possess a major portion in kids lives. They just have a strange affiliation with small things. Same is the case with this relatively smaller bed we made especially for the little kids. Despite of its small size the bed is fully equipped with all the essential parts.

There might be some time when your kids are willing to arrange a class inside their house. For this, they would certainly need an appropriate sitting plan outdoor. Keeping in view their preferences we have made these luxury couches painted with eye catching colors, and we placed a cable reel recycled table right in the middle.

A table is probably the most important item in the entire furniture range. Kids also need some good wooden tables inside their separate rooms, like this rustic corner table we made with wood pallet just for kids so that they could use it for multiple needs.

In this project we see a two unit three seater wood pallet rustic couch. Apparently they look like some huge and gigantic couches. But the seating capacity is kept a bit smaller according to the need of kids. There is also a tiny wooden pallet table in front of couches.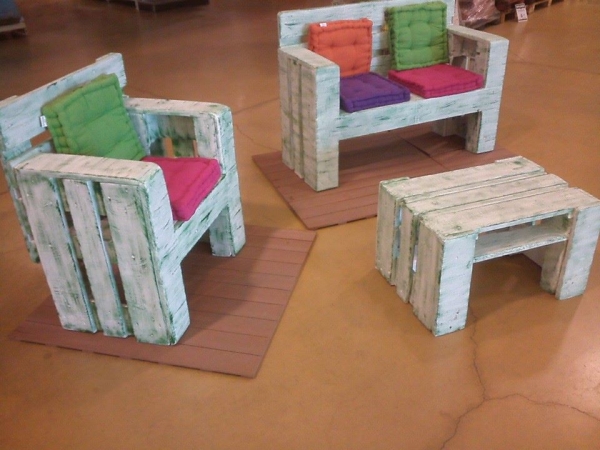 Mud kitchens really fascinate the kids, they attract them towards the practical life. They make them familiar with the original domestic affairs. And at the same time this is a great playing activity for them. So here is a fully equipped wood pallet mud kitchen for the kids they are undoubtedly going to love.

This seems like a small stage set for the kids where they would be having some sort of demonstration. Or otherwise they can also have a chatter or discussion here. There is a wooden deck, tiny wood pallet planters all around, and in a corner there is a pallet made couch.

Now this is something exclusive, something pretty exceptional. We made this hut with a wood pallet on the base. And we used floral paper along with netting fabric. This could be an outdoor tent when they feel like spending some time outside.

In this project we planned to make a kids heaven with wood pallet. We installed a rustic pallet fence all around the specified area, and there is a hut shaped small houses a part of their playing activities. The whole heaven is meant only for the kids.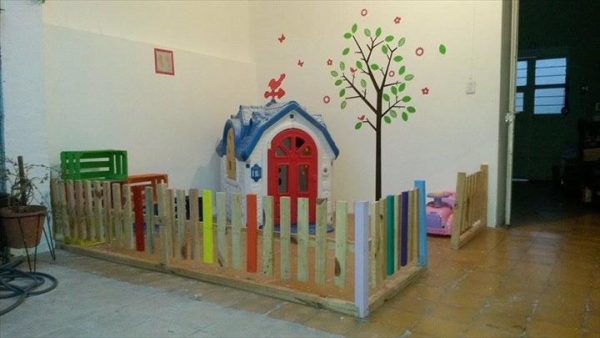 While coming towards our next project, we can see here various wood pallet items for the kids. There are some colorful wall shelves, a multi colored wooden pallet bench, a colorful coffee table and the TV table is also made with same pallet wood planks painted with different colors.

Kids are always copy cats. They just love to follow you, the way you talk, the way you walk, even the way you work. So if your kids have seen you working at home with your laptop, get them this wood pallet table and chair where they can work on their toy laptop with full concentration.

We have given a number of kids bunk bed ideas made with pallet wood. But we were repeatedly asked to bring some conventional single wooden pallet beds for the kids, so we just thought to bring this one in the collection.

And this one is simply out of this world. I am literally dying to make this one for my little angels. These tiny chairs are almost looking like some cartoon characters. Their classy backs and the paint work on the table top is a great attraction for the kids.

Whenever we talk about some outdoor sitting plan, the wooden benches are probably the most appropriate furniture items. So we just thought to make this pair of wooden benches with a similar wooden table for the kids where they can sit and play, they can also use them for studying as well.

We have already made a comment on the special association of kids with several cartoon characters. They consider them to be their best friends. And that's why we thought to give their best friends a proper shape, this decorative wooden pallet chair would be a pleasant surprise for your kids.

After all these wooden pallet kids projects, you guys would have known the potential quality of pallet wood that with how much versatility these wood pallet planks could be used in various kids projects. And just to give you guys a holistic and wider approach, we brought you this whole kids play land made all using the same wood pallet planks. This built in slide, the whole wooden set up and the fence all around is the creation of same shipping pallets. So spare some time out for your kids and work a bit for their true happiness, just to see a glazing shine in their eyes with these pallet projects.