In this modern era where the human population is being multiplied in every passing day, resources that are available are becoming scarce each day. We are running short of them. The worst issue faced by masses is livable space. In the west shelter is one of the most expensive commodities. So we resort to some storage hacks while living in square feet big houses, these storage hacks come in the shape of closets, cabinets, shelves and wooden chests. Here is another unique storage device that we have named as pallet chest of drawers. This pallet wood chest is different as it carries multiple drawers.
Starting with this wooden pallet repurposed chest of drawers, we have provided it with a number of built in drawers according to its title. Whole structure is made with the shipping pallets and availability of some finest and cleanest pallet wood is ensured throughout the project.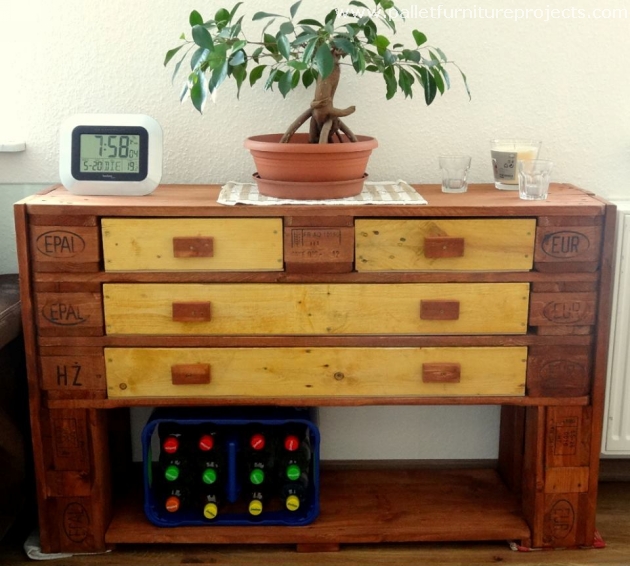 In the next project we were a bit concerned about the optics, so we added some metal work in this chest of drawers. This grand chest made with the shipping pallets is carrying the drawers which are made using some metallic frames. This ensures the smooth movement of the drawers.

Now this could be conceived as a multi purposed wooden pallet table that can be used as a TV stand, as a hallway table, as a mere side table, and also as a chest of drawers as it contains multiple drawers which you can use for the preservation of your precious accessories.

Have a look inside the pallet wood chest, the drawers are made quite grand in the size. Apparently it looks like some whole pallets are placed one on another, and the spaces for the drawers are carved out with extreme skills and wood work tactics.

Does it remind you of the pallet wood bar tables? Yeah you are absolutely right. This is shaped and designed like the one, but actually the intent is pretty clear here. We made it as wooden chest of drawers that is provided with large built in drawers having the metallic handles on the front to make it look nice optically.

No matter if you leave your pallet wood recycled chest unstained, this would still maintain a specific charm that is associated with the pallet wood. Whenever you are running short of space for some of your accessories that are dear to you, make this one and take the best care of th9ose accessories.

Now here is a vintage wooden pallet chest with some antique pattern on the top, while the drawers are having metallic handles instead of same typical knobs that we usually witness in the antique wooden furniture items.

If you have some fresh shipping wood pallet, this would make a great pallet wood chest of drawers because while recycling some pallet wood creation you also have to be cautious about the optics, especially when something is meant to be placed inside a lavish house. So I think this would be one of the most appropriate items inside your house.