Recycled Pallet Wood Lamp
There are some people who like hanging out, going hiking and enjoying the nature, watching movies and going shopping. But there is another faction of the masses who have got a totally different point of view regarding life. They feel that the time in life is too short to waste. So they just want to make the best use out of every moment. Many of them are our wood pallet crafter folks who are always craving for some new wooden pallet recycling ideas. Now coming to the business let me introduce you guys a beautiful recycled pallet wood lamp.
Basically this is entirely a pallet wood creation. No doubt a few things related to the lighting supplies are also included as this was meant to be a lighting lamp. So that can be seen in the shape of wires and a white mercury bulb that is slightly different from the common Edison bulb.

First of all have a look on the entire structure of this wood pallet recycled lamp. We actually see no shade on the top where the bulb is installed. But other than that, it has got a couple of features that are really adorable.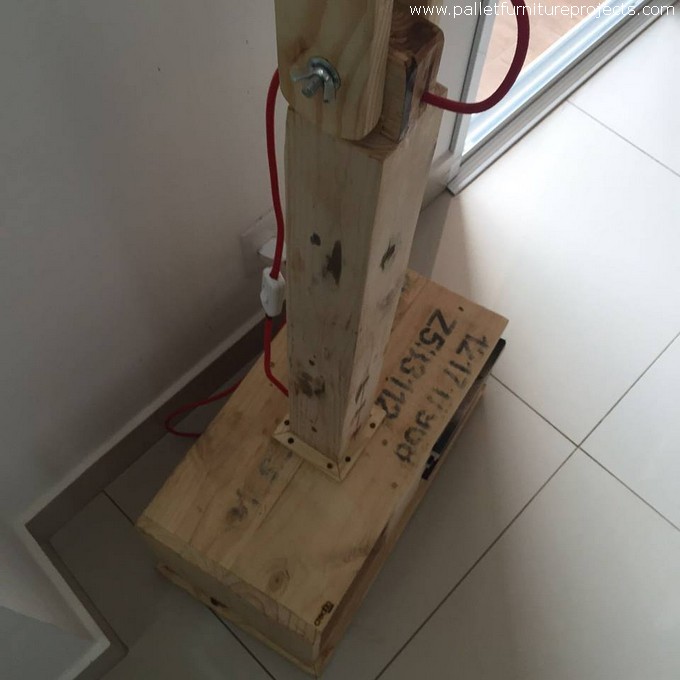 This is a close frontal look of the wooden pallet repurposed lamp. Apart from its basic function of lighting up the room especially while reading or doing some other similar work, it has also got a tiny little cabinet that is having some ample space where you can also stuff inside some of the books that you frequently need. So I think this is the biggest incentive that a common lamp can offer. And on the other hand this is called the real smart exploitation of the shipping wood pallets. One more thing that can be figured out is that very fine shipping pallets were used to make this bedroom item.

In the next couple of pictures we are going to show you different positions which this lamp can take like this can stay erect tall horizontally like this when you need the scattered supply of light inside the entire room.

And if closed down, this would be working as a typical lamp which concentrates the light supply at a certain point. This position would be ideal when you are reading some book in the night time. Nothing other than the wood pallet is used as the basic material in making the wood pallet lamp.