DIY Patio Pallet Deck with Furniture
Many of the American youth and the entire west love to spend time outside in the sceneries of nature. So an outdoor life is always literally loved and desired desperately. In our website we have given a number of plans for some outdoor plans including furniture items  and some decent wooden pallet decks. Here once again we are bringing you guys a whole comprehensive plan of DIY patio pallet deck with furniture. The basic instructions would be given here which are more than enough for the crafters even the beginners.
Let's have a look on the things that we need in making this whole set up.
First of all for sure a bunch of some fresh wooden pallets that are pretty easy to find out in the surroundings. Then some professional saw, preferably miter saw to cut the wooden pallet planks. A tool to dis assemble the wood pallets. Some steel nails and a high quality glue, and finally the stain of your choice as we have used light grey here.

First of all six fresh wooden pallets are placed on a level ground, they are joined together with nails and glue. And a leveler is placed on them to check the level that if they are equally joined or not.

After making the ground pallet wooden deck, we have prepared a sofa frame following the same pattern. Cut to size wooden planks are joined together in the shape of a grand sitting couch or sofa. Whole pallets are used in seats and back.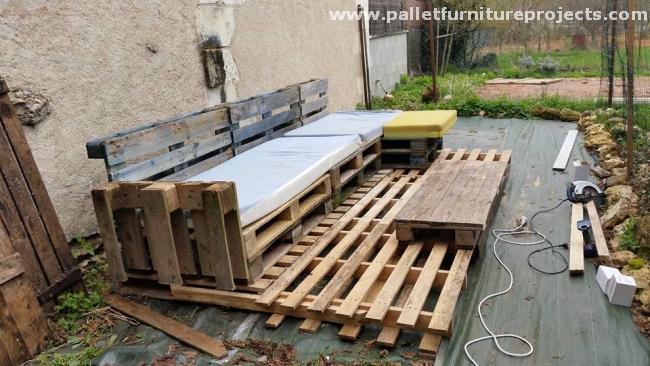 After making the arm rests of the sofa, we are going to make a conventional wooden pallet coffee table in the front of the couch. The robust base planks of pallets are placed on ground and upper slim pallet planks are fixed on the top layer, and some metallic built in wheels are fixed on the base.

Here we see the basic structure of the DIY wooden deck and sofa along with coffee table is set. Now do some excellent sanding with sand board to smoothen up the surface of the wood.

And here we start staining the whole wooden set up. Some high quality light grey paint is used in staining them as this color would look great in outdoor. And the deck board is stained with relatively lighter color. The lower most pallet planks are just left unstained because they are not prominent in the set up neither they would make any difference.

And here comes the final stage where after staining, some comfortable pillows and foam mattress is placed on each seat of the couch. Contrasting pillows are generating a very ravishing look in the entire set up.

Now this is the miracle of raw wooden pallets. This whole DIY wooden deck along with pallet furniture is recycled using the wooden pallets and their dis assembled pallet planks. Pretty perfect for any outdoor sitting whether it be your patio or your green landscape, this would have cost you otherwise in thousands of bucks, so a great deal for sure.