Recycled Pallet Furniture Ideas
Recycled wood pallet furniture has always been a source of inspiration and motivation for a learner like me. I always remain in search of some exclusively great pallet wood recycling ideas and keep reproducing them for your guys with the courtesy of many other fellow crafters. And I know these ideas are really doing great in your lives, you guys come here on this open platform, grab the most suitable idea for you and feel rewarded the moment you are done with your project. Despite of all loads of pallet wood recycling idea supplies we feel like we can just never have enough of them, so here are some more.
This long wooden pallet bar table is the creation of pure wood pallet. Never under estimate the potential of these apparently useless looking shipping pallets. It's you who can make the wonders happen with these wood pallets.

Here is a whole arrangement made using the fresh pallet wood planks. This slim and easy outdoor chair, long table cum bench along with a two seater couch on the other end. Plus the wooden flooring is also done with the pallet wood planks. These are all the pallet creations you can make for your balcony.

I am literally running short of words to express how I really feel about this white pallet wood couch and tiny wood pallet coffee table. The couch is equipped with high quality wheels so that you can grab it wherever you want it, while the coffee table is also there to compliment your sitting.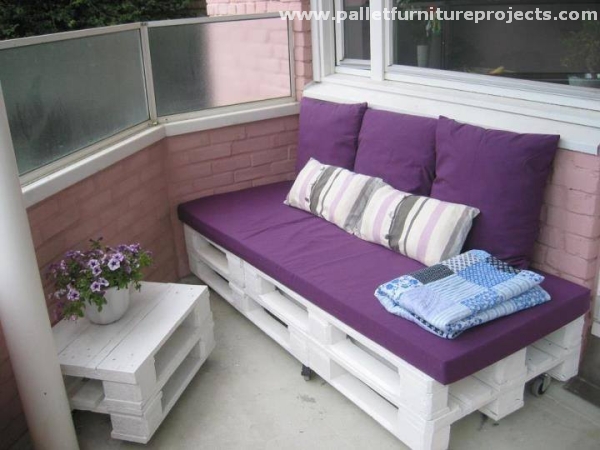 Creativity and innovation is something that is gifted from the GOD, one just can not earn it or buy it from anywhere. The wood pallet crafter who has designed and created this dual outdoor chair set is worth all the praises and admiration.

There may be a time when you feel like enough, I am not ready to spend even a single penny on any furniture item from the market. I am just sick of this recurring expense, and then the pallets would be there to escape you from this mess. Make what you want free of cost with wooden pallets.

L shaped outdoor couch is pretty known to all of us, we always love to sit on such a luxurious and well built couch when we go somewhere. Why not to make this same L shaped huge couch for your garden or couch?

When you are already indulged in wood pallet extravaganza, then you won't listen to anyone. You will not follow the certain protocols, but you would go according to your ambitions. And may be while pursuing them you may end up with such a great multi purposed invention, like this table cum wooden cabinet.

Just look at the decency and rustic look of this wood pallet recycled room bed and couch. In what way they are less than some expensive market based furniture item? I don't find even a single reason, you are welcomed you let us know if any?