With the pallet wood we can do a lot of stuff that in the past was literally very scaring because of the high prices of the wood material. But this is the blessing of the wood pallet that it has given us enough liberty to purse all of our plans related to the wooden made creations. Here we have come up with a very awesome wall décor idea. This pallet wall art is going to entirely change the outlook of your room. For this we need some very large supplies of the shipping pallets so first of all go and get them.
Look at this whole bunch of the shipping pallets. From there you have to sort out the shipping pallets that are similar in size and shape because the pallets come in a variety of sizes and shapes. So this is mandatory to collect the similarly designed shipping pallets.

This is not a simple wooden pallet wall cladding but we have got a totally different idea here. We are going to make these tiny racks that are randomly shaped and sized throughout the entire wooden sheet that would be created with the wood pallet planks.

Look at these tiny boxes that remind me of the Jerry's house, they are much similar to those holes. These little tiny cabins are meant to be the smart storage hacks where you can place a number of accessories, some of them would be turned into built in planters and vases.

Here we have prepared the main frame of the wall art which is meant to be installed along the wall. This whole process is done on a plain floor which is cleaned first to avoid any uneven fixation. Then each pallet wood plank is attached to the other one by one.

When we were done with the frame this was looking something like this. Each wooden pallet made box is made with properly cut and sized tiny pallet planks, but in the lower pallet planks we haven't followed a certain length pattern but we have left it pretty open where randomly sized planks length wise were attached.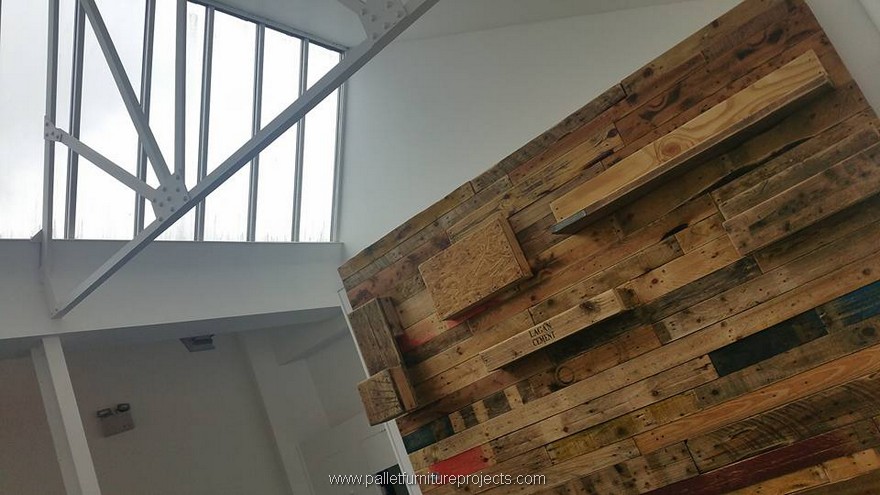 Look at the wooden made boxes or racks that are the extensions out of a plain pallet wooden sheet that was made by joining each pallet wood plank individually. Each rack has got its own importance like each one of them could be used for a totally different task.

Once the board was prepared, the next stage was the installation. Well, here we had a couple of choices like it could have been done on the wall cladding pattern, or the other choice was to do some sanding on the wall, make the wall smooth and then attach it straight to the wall.

As you guys can see that we have chosen here the latter option. We didn't make wooden base first but we just worked on the smoothening of wall, and then we used a very high quality adhesive for pasting it. And finally we did nailing throughout with a most advanced nail gun.

This is the final look of this wood pallet made wall art. It is created on an official site, that means here the wood pallets are being used commercially, so this is a good sign that people are showing more and more interest in the wood pallet made art crafts and other creations.

If we notice the real beauty of this DIY wall art really lies in the roughness of the shipping pallets like all the scars and marks of aging are left pretty untreated on the shipping pallets with multiple raw stains on them. and this has actually built the real artistic touch in this project.

Created & Shared by: Jak's Yard