Pallet Wall Shelf Cum PC Table
This is the basic quality of the wooden wall shelf that it can be used in a dual manner, this is a fine storage hack, and this can also be perceived as a smart wooden decoration piece. We have presented you guys a number of wooden pallet recycled shelves. And all of those wooden shelf ideas have been widely appreciated and admired by you guys. Here we have brought a pallet wood wall shelf cum PC table. This means that this wooden shelf would also cater the needs of a table as well. Your personal computer would be placed on this.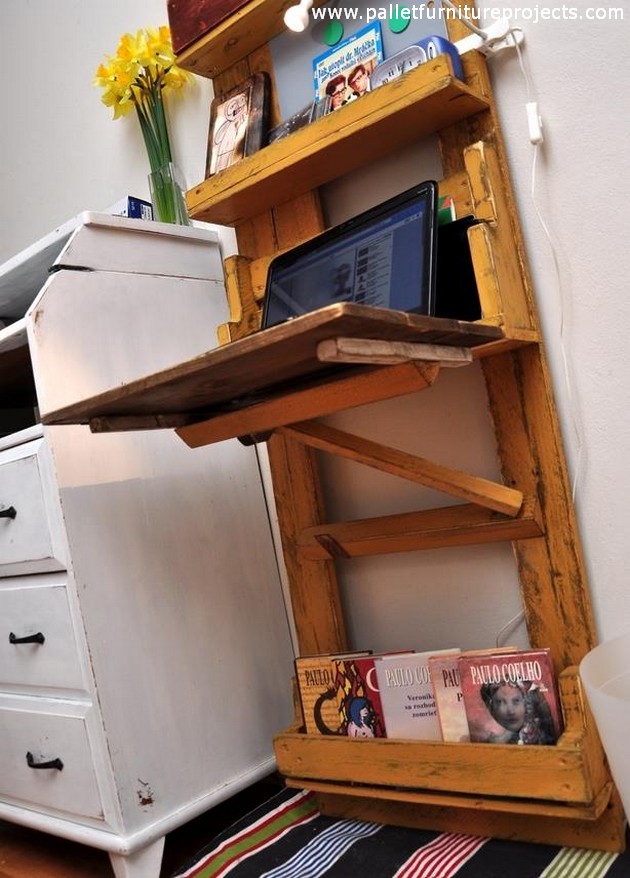 The very first thing that I would like to discuss here is the design and shape that we are going to pursue here. This would be made as a perfect wooden wall shelf that we have normally made in some of earlier projects.

We have made it multi tiered, this is a common practice that we do in making all wooden pallet repurposed wall shelves. The intention behind making these multiple shelves is that this is to be used as a smart storage hack where we would place different accessories and some decoration pieces as well.

Now if we bother to talk a bit about the quality of shipping pallets that we have used in making this wooden wall shelf cum PC table. Some old and deteriorated shipping pallets carrying all the stains and scars that they have carried over the years, the roughness has even escalated the beauty of the shelf.

And finally what we did actually to turn this wooden wall shelf into a smart wall shelf cum PC table? We just added an extension in the shape of a wooden slab extended outward, this extension would be used as a PC table.

Created and Shared by: Mộc Style