Pallet Side Table for Bathroom
Let me please praise and appreciate the wood pallet that has enabled us to start thinking about some wooden furniture items for our mere bathroom, I mean there was a time when we were scared to buy some furniture items even for the bed rooms and lounges. But the blessing of wood pallet recycling has embraced us in a such a compassionate manner that we can think to make a pallet wood side table even for our bathroom. Isn't this a great thing that is all done by the wood pallet? Let's talk about the wood pallet side table that we need for our bathroom.
We have got here a couple of designs that can be pursued while making a wooden pallet repurposed side table especially for the bathroom. Why one need a side table in the bathroom? Well, this should be there to carry the towels, or a dryer, or some other bathroom accessories like shampoo, soap etc etc.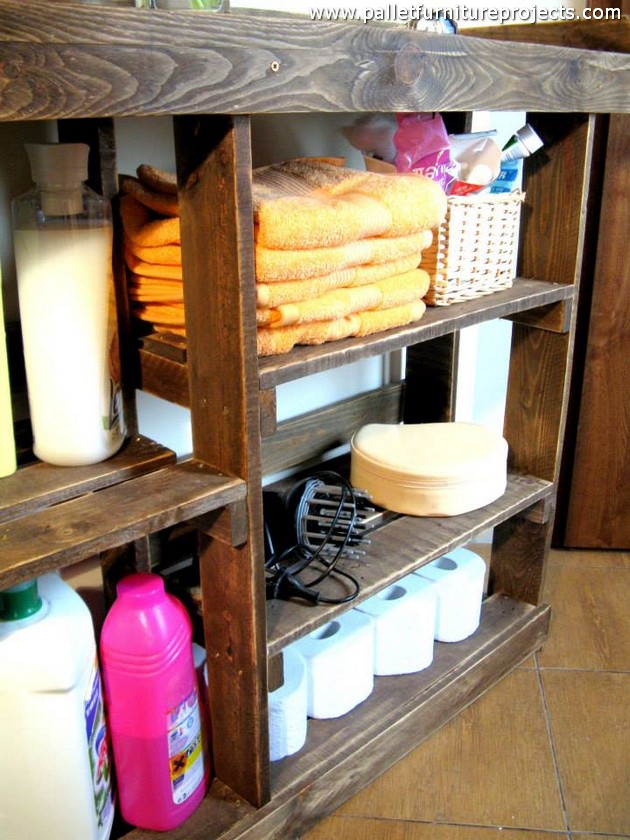 Here comes a sleek a stylish wood pallet repurposed side table, it has got multiple tiers that have multiplied the usefulness of the wooden pallet side table. This could be used t place all the bathroom accessories right at one place.

What we actually did here is that we kept the top just like a proper wooden table, flat and plain. So this could be used as a regular side wood pallet table. We placed a decent vase carrying fresh roses on the side table top.

If we talk about the quality of the wood pallet that is used here, the pallets are relatively fresh except some minor scars and breakages that can be seen on the top planks. Still it made a perfect wood pallet recycled  side table for the bathroom, so pallet would be with you even in the bathroom.