Kids Fun with Pallet Playhouse
Kids are the most precious creation of the nature. They make our lives beautiful with their innocent deeds and little follies that make us smile. So this is our responsibility to give them back some unmatched joys and happiness. Getting your kids a beautiful and fully equipped play house is always one of the best choices for kids. We can get this play house built by some professionals, but it would take a lot of finance and time ofcourse. So how about recycling a wood pallet kids play house at your own with these very shipping pallets? Isn't that great? Let's have a glimpse of some of the most practical kids pallet wood playhouses for fun.
This one is one of the most sophisticated kids structure entirely repurposed with wood pallet planks. Along with the metallic shuttering on the roof top, this is a great blend of wood and metal. Pallet planks installed with intervals make the inside out clearly visible.

And this is a cute wooden pallet kids fun area or the kids playhouse. It has got it all what it takes to be a perfect choice for the younger kids. It has got colors, it has got the finest carving, windows and a wide door.

No matter what sort of pallet planks you are provided with, they might be broken, they might be deteriorated ones, make them just perfect with your skill and imagination just like we did here in this kids play house.

Swings and slides are the biggest bounties that can be bribed to kids, they simply love them. I haven't ever come across a child who is not interested in some outdoor games or recreational activities. So making this kids fun house would be a solid charm for your growing kids.

You can not limit the wood pallet creations to some initial amateur art crafts. But you can literally make such wonders happen just being smart enough to take such a grand initiative. This perfectly designed kids playhouse with an attached wooden ladder is a master piece of wood pallet creations.

Awwwww…. Ever thought of being welcomed by your little angel? Just imagine that you get home pretty tired and your little doll is standing on the front door of her wooden pallet recycled kids playhouse, and she welcomes you warmly, I think all your tiredness would be gone in a minute.

Remember some vintage French architecture designs? I saw some of them in old French movies. The same typical hut shaped room, with a large wooden door and some extensive entrance or ground balcony right on the front. This one is influenced from this structure. Make it a reality by coloring with some fresh wood pallet planks and your expertise.

Have you planned to give a total wild look to the kids wood pallet playhouse? You can stain it with multi colors in random ways, just the we did here in this pallet wood kids play house. Install it somewhere in the middle of your extensive green landscape.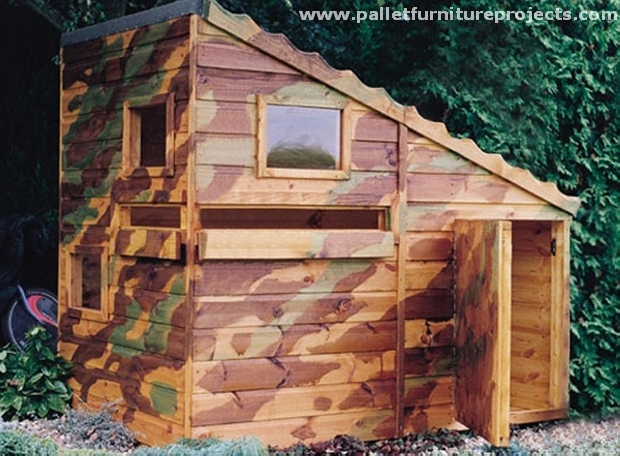 I simply have to admire the thoughts and plans of the crafter who has designed this multi purposed wood pallet kids play house cum kids fun area. The first floor room with sufficient frontal space is to give them a perfect outer view, wooden ladder is there, and a beautiful slide leading to ground is for their hours after the homework.

If the kids are just too young and you don't want to keep them away from your immediate access, you can build them this simple wood pallet kids fun house. A small wood pallet recycled kid house with castle shaped structure is all they need inside their house.

Making these wood pallet recycled kids houses is all about your expertise as a perfect carpenter. But this is actually the next level kind of thing that would not be a wise choice for the beginners. But you can polish your expertise further with such wide spread wood pallet creations.

Kids just love to own a few things that they believe just belong to them. And they can never compromise on these certain things like their toys, their bicycles, and their fun houses too. These wooden pallet kids houses belong to kids, and kids belong to them so just design them according to their choice.

I would just like to say wow, I mean can a kids fun house get better than this one? The answer is big NO! This is literally a complete package of fun, attraction, durability, design and expertise. The house if fully equipped with all desired segments.

I am always desperate to do something exceptional for my little angel. And I think giving her some routine gifts won't be enough as I am occupied and obsessed with her love. But this kids wood pallet play house would be the most appropriate thing that could be done for her.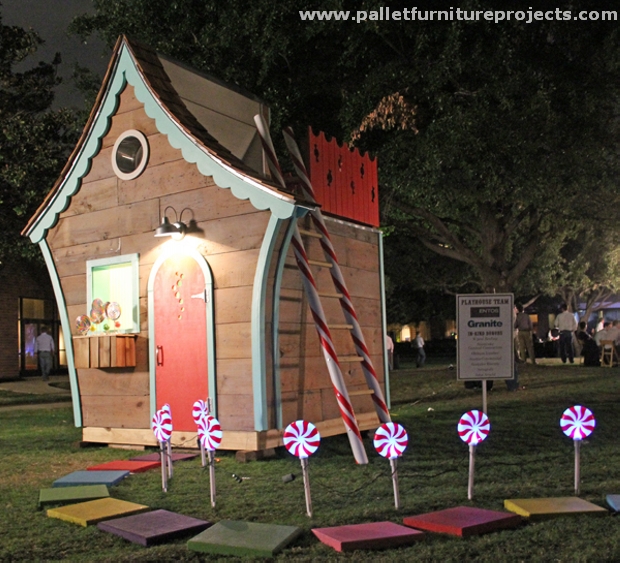 Want to make a kids wood pallet fun house in your patio? Not a big deal. Just keep it confined to the boundary of your patio, keep the stature a bit low, use some metallic panels to ensure the durability and work a bit on the design that's it.

I think now we are getting a bit closer to some high quality and most complicated wood pallet creations, like this wooden pallet kids tree playhouse. Making it on the tree isn't that simple so first get prepared for this next level kind of thing and them ofcourse give it a try, its worth it.

Kids love caricatures, but I never knew that my fellow crafters are going to go that far… I mean they made a whole wooden pallet recycled ship just for them, which was connected to a perfect kids fun house.

If ever in your life you wish to make a separate heaven for your kids where you can also spend some of the best moments of your life with them, just think of making this sort of pallet wood recycled kids playhouse.

This long shaded extensive wood pallet repurposed kids house might look a bit strange initially as it looks more like a stable having different portions for each stud, but having a gentler look this is a perfect wooden compartment that would provide your kids with the quality space.

This one is again a kids play house recycled with wood pallets. This more looks like a kids doll house because of its specific colors and the structure. Same hut shaped wooden cabin with some ample space where the kids may sneak in and play for longer periods in isolation.

And this is something big, something grand, infact this could be a multi purposed building where even the adults can walk around, and again a perfect safe haven for the kids where they can play, they can mingle and invite all their school fellows because some ample space is provided in the project.

I am simply loving this wood pallet recycled kids play house, and I also regret why I couldn't get this one in my childhood. But yeah the reason is that in my time wood pallet recycling wasn't all there otherwise I would have also enjoyed the same high class prime play hours.

Such cute and sophisticated kids play houses would be a great charm for your growing kids, they would get inclined towards some outdoor games which is undoubtedly a healthy activity, they would prefer to switch to some outdoor games rather than some indoor games.

Such large wooden compartments are so damn common in grand kids play parks. So if you are smart enough and a true wood pallet crafter, you can bring this wooden beauty right at home for your beloved kids. No need to go out in those public parks as you have it all right at your place.

This one is again a perfect wood pallet recycled kids fun or play area, a ship caricature carrying all the stuff for your kids they would love to enjoy. With this smart wood pallet creation you have paved the ways for some future wood pallet crafters as a gigantic inspiration in this shape.

This multi polar cabin is simply cute, this is all equipped with some indoor furniture items, a comprehensive passage path, and a cutest wooden pallet recycled ladder. These are some different dimensions of wood pallet art that can be immensely blissful for your growing kids.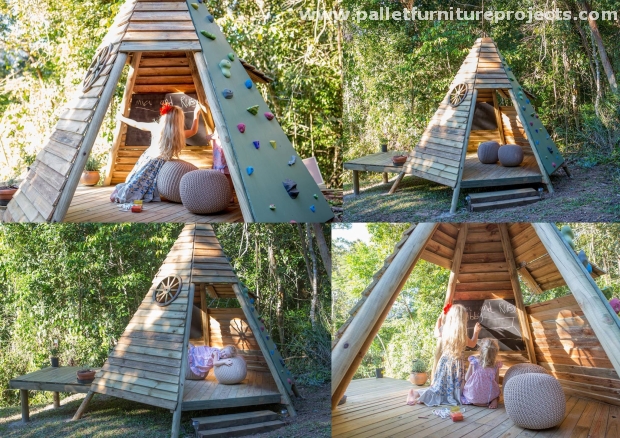 I am literally running short of words for expressing these amazing wood pallet creations. This one is the best wood pallet recycled kids play house we have recycled so far in this article. It has got all the playing stuff, some for physical activities, and a complete luxurious rest room as well.

And this is something outstanding, wood pallet recycling at its peak. A perfect hut shaped pallet wood repurposed kids play house. All of these amazing wood pallet creations could all be yours, you just have to come out and give them a try as they are pretty worth it.