Adorable Pallet Wood Recycling Plans
Last week I was really amazed to see the traffic on this platform and this made me realized that more and more people are getting attracted towards the wood pallet recycling. This thing was pretty encouraging for me that the skill is being acclaimed on the mass level. Secondly we really feel to be blessed when you guys give us your feedback regarding the usefulness of the pallet wooden recycling ideas. It feels like our work is being recognized. Today I have compiled a list of some adorable wood pallet recycling plans. I would like you guys to have a look on them.
This time I am starting the article with a pallet wood recycled item for the one which I adore the most, who is the real happiness of my life, my beloved daughter. And trust me she is so obsessed with these kind of wooden kitchen.

In this room we see all around the pallet wood repurposed furniture items which are being used for different purposes. Like we see a wall rack, then we see a pallet wooden table that is meant to carry the desktop, and in a side we see a beautiful pallet wood stool too.

While planning something for your outdoor, never forget to consider the pallet wooden repurposed items because they have certainly got so many potential benefits that are going to make you convinced of their usefulness at the end of the day. Like this portable wooden pallet table along with the benches fixed aside.

Whenever I am left with some nasty and broken shipping pallets, I always prefer making some outdoor wooden pallet furniture items out of these shipping pallets because such stains can easily be tolerated in outdoor spaces but not in indoor. So put to the work your left over shipping pallets.

Well, in the beginning when I saw this strange pallet wood creation which is neither a chair nor a couch, I was very curious to know what exactly it is and in what way it is supposed to be used. But later on I realized that it would make a simply awesome pallet wood sun lounger.

Wow, what is so great about this adorable pallet wood upcycling idea? Actually, there is something that is closely linked with the patriotism and love for the country. This is not a mere plain welcome sign board but it carries the flag of my homeland too.

Whenever playing outside in the summer season, you would certainly need some ample and chilled supplies of clan drinking water. So this time don't go for the conventional water cooler, this time try making this wood pallet cooler to enjoy something different.

I just love the Christmas tree even since my childhood, but here the main focus isn't the Christmas tree but the wood work that can be seen in the backdrop. These uneven and rustic pallet wood planks have really drawn a beautiful atmosphere in the room after proper lighting work as well.

Let me tell you guys, this dual chair kind of things have been so famous throughout our wooden pallet repurposing journey. Many couples have asked us that if we have had dedicated this one to them? And our answer for everyone was positive to make them realize that each folk is important.

When customizing our house, we spend a lot of money especially on the different wooden installations. In this article we are showing you guys the pallet wood recycling ideas that are not typical but very adorable in nature that are going to be very helpful in the real sense.

And this long wood pallet table was just made with some leftover pallet wood planks after making a room bed. We cut them is certain shapes which see on the top of the table, while the rest of the structure was made typically, use it in the garden or patio.

Now here is another different kind of wood pallet wall art where the smart crafters have really put up together the skills of a carpenter, a painter and a writer. After all this we have come up with this mind blowing idea of wall art which really fascinates me.

Don't feel like you are witnessing a down town bar where you go at nights to cherish your mood, but this is a purely domestic wooden pallet installation, a pallet wood bar that was especially designed for the patio of the house. Other than the wood work, the lighting work is also commendable.

Hello all the books and reading lovers, you have got piles of books and want to see them all arranged and piled up in front of you? This grand pallet wood wall shelf or typical book rack is really an amazing idea for you to for.

Well, my perception towards this compound is pretty typical, this must be taken as a wood pallet dog house. But this is not essential, you can use it according to your needs if you haven't got a pet dog. May be use it as an outdoor storage option.

And here comes a classic piece of wood pallet recycled furniture item, an amazingly designed wooden coffee table with a glass top. We also bothered to add these heavy duty metallic wheels on the base to make it easy for you to shift the table throughout the house with only a gentle push.

How do you think this garden art would have been made? Well, some of the dull pallet wood crafters might find it a hard task because they are just good with the wood work and not with the brush. But trust me this isn't that hard and should be considered.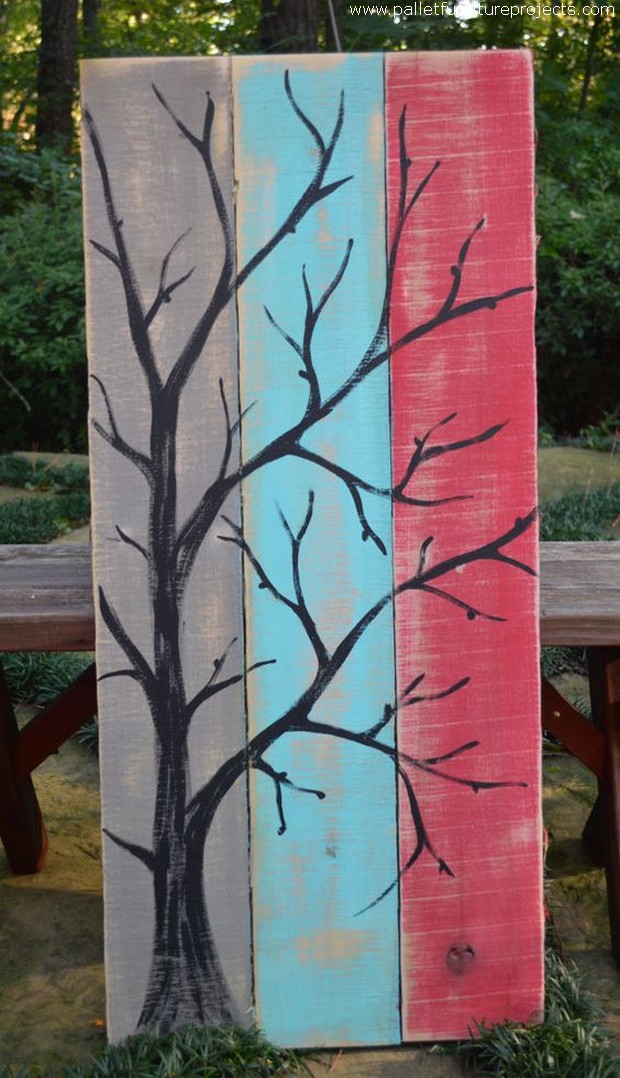 These two cute little pallet wooden repurposed tables must be appreciated by the kids especially because we have done a very fine and artistic paint work on their top to lure the kids. They would just love sitting on this adorable piece of wooden art and beauty.