Ideas for Pallet Projects
Are you fond of furnishing your room interior with some awesome furniture articles? Me and my wife are really crazy about decorating our home interior with some exceptionally great furniture and decoration center pieces. But as the prices of branded furniture is pretty high now days so it was never easy to keep changing the furniture every six months or a year's time. Since I have started working on recycling projects with wooden pallet, it has become so easy and handy for me to design and make my room furniture according to my choice and priorities.
Here we would be pondering on some of the master art crafts that are upcycled with wooden pallet and they are being used in our practical lives. For instance here you can see a wooden pallet recycled cabinet that is having several racks where there is space for hanging clothes and also some portions for folded clothes. Not only the clothes but the corner portion is specified as shoe rack where you can also place huge number of your shoes. This craft beauty is entirely made of wooden pallet. And this is painted in bright white matching to the room paint.
When you have the pallets in your backyard and you also know the art of recycling then designs and shapes is not a big deal for you. This would be just like a think done situation for you. For example here is a smart sitting couch having a rare moon like shape which you certainly wouldn't have seen on some conventional furniture shop. You can design and shape it at your own by recycling the wooden pallet and place it on your desired place. This would be a real master art craft among all other furniture articles in your house.

Not only the routine furniture article but we have seen the wonders happening by the wooden pallet and recycling art. Here is another master art craft of a kids bunk bed that is especially designed for your younger kids having the most appropriate color scheme as well. The entire bunk bed is made by recycling wooden pallet. It has two storey sleeping space where the upper portion is connected with a wooden ladder that is also made by recycling the wooden pallet and nothing else. Probably the best contrast of white on the wooden flooring on the ground of room.

Pallet is obviously such a stuff that is easily accessible for all of us. This is probably the most common thing of every house hold in the west. So when you are having the pallets in bulk and you are also familiar with the art of recycling. Then you are the master of your will. You can simply create what you dream about. Like here is a conventional bedroom dressing which is meant to be lying beside your master bed. You can design and make it according to your will, specify its design, its drawers, its length and width.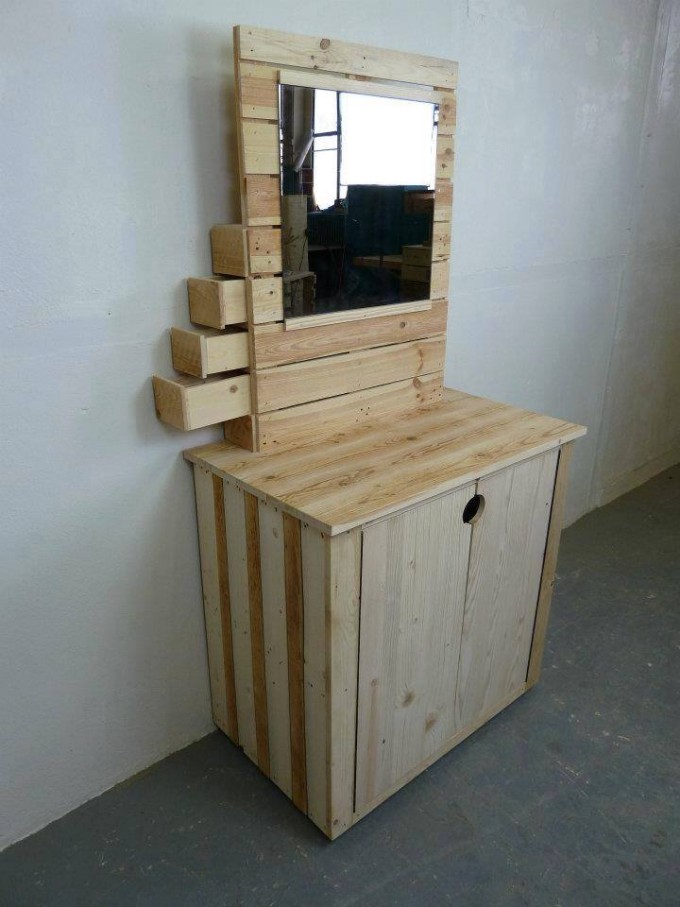 The moment we have discussed making a bedroom dressing, why not to talk about making a pallet wooden bed that is entirely made by upcycling pallet wood. This would be really a great and economical idea. What do you say about this? Have you compare the market furniture prices? They are real high man. so just don't worry about the market prices and just make your own master bed at your own by upcycling the wooden pallet. Look at the style and structure of this bed, though this is pretty simple in design but still perfect for your bedroom surely.

Lets have a look on another amazing creation. What do you think what exactly it is? Certainly nothing hard to find out. It's a kids bed which has a very unique design and shape. And why not to go for something exceptionally unique and rare when you have all the freedom to design and shape your furniture according to your will by recycling the wooden pallet. The entire body of this repurposed kids bed is made of pallet wood while it is also having the wheels on the base to make it mobile. Drag it near the window or adjacent to the wall.

Coming to the next one we have realized so far that pallet is such a great stuff that it gives you the complete freedom of making the things that you just imagine and wish to have. So this is also something perfect for your kids projects where they learn a lot in the creating process. Here is a hut shaped small house that could be used as your baby girl's doll house or may be your little boy may make it a living room for his friend Mickey mouse. This is also recycled with the wooden pallet.

We have already discussed a simply designed master bed for your room that was comparatively smaller in size and simpler in design too. But here is a splendid master bed which is pretty unique and awesome in every perspective. Its size is huge, its shape is great, its pretty spacious, and additionally have some lighting installations inside and beneath the upper surface that makes it quite exceptional and unique. It also has ample space in the lower portion where there are some tiny drawers that are meant to preserve some accessories of yours. think of making this one for your room, it would be a great experience.

Since we have discussed many practical furniture items that are recycled with wooden pallet. Here is another demonstration of a sitting space that is sitting cum bed. This place having a triangular shape could be used for multi purposes. Your kids may study here or they can also have their meals on it. The entire project is made of recycled wooden pallet while some fine mattress is also used. While it is placed in the corner of a room having both its ends adjacent to the room walls. Recycling pallet wood is a real blessing for art lovers.