Useful Shelves Out of Wooden Pallets
Shelves have been a considerable recycling throughout our pallet wood recycling journey. They have always been an inspiration for the beginners who are new into the pallet recycling as these shelves carry a simpler design and pattern, so they are relatively easy to make. So realizing their acclamation here we are going to present a number of wooden pallet shelves that would beautify your room interior and would also provide you some of the smartest storage hacks. For instance have a look on these gorgeous and colorful simple and straight wooden pallet shelves. They are more like a decoration piece.
As we said earlier that making or recycling the pallet wood shelves has always been an inspiration for the beginners because these pallet shelves are damn handy to make. They do not carry some complicated design mostly, so sometimes just cut to size wooden pallet planks are just joined together making them look like a wall shelf. As here we can see the simplest pallet shelves installed along the wall. They are carrying their pretty natural look that is rustic, and they are just left unstained, but some fine sanding is done for sure. Use them for a couple of books or vases.

Have a look on another straight and simple wall pallet shelf. Though the design a bit complicated but you just have to ponder upon the formation, there's simply nothing complicated, you just have to cut to size the pallet planks and join them together.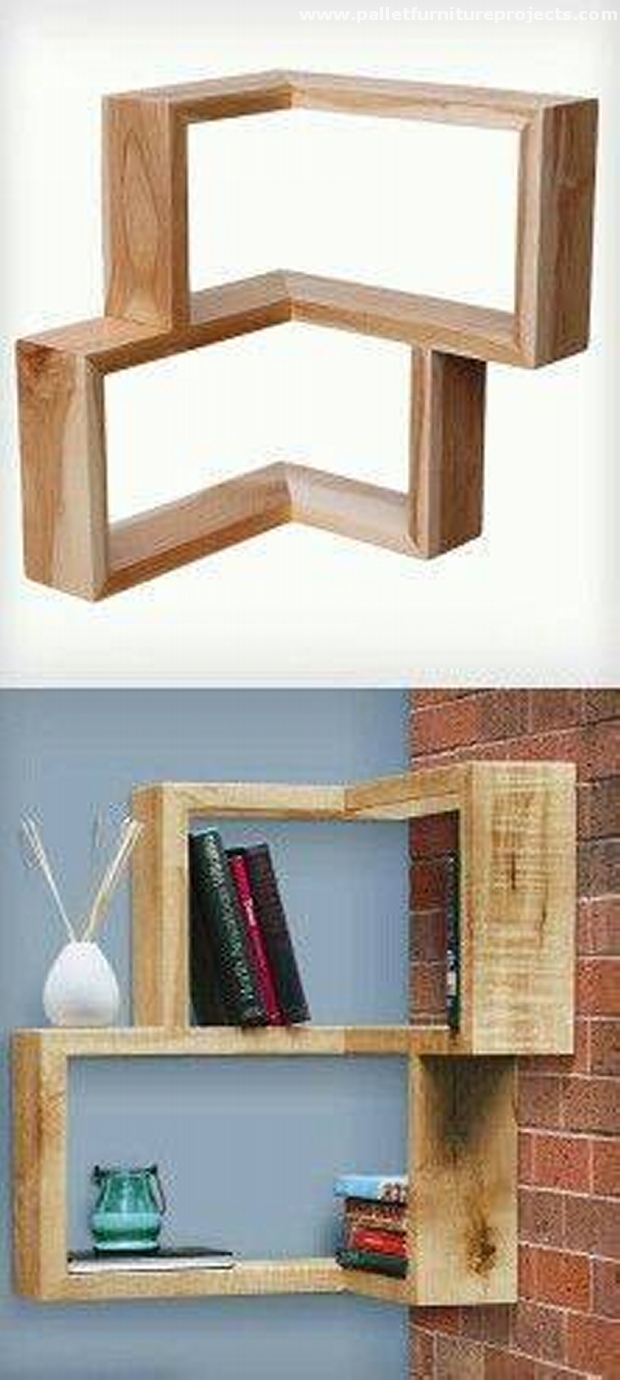 Wow, I have seen such marvelous wooden walls in most lavish bungalows and mansions in the urban elite class. Since then I always wanted to have that kind of shelves inside my room. And the wooden pallet recycling has made it all easy for me, and these attractions could be all mine.

Now this one is just superb. Not mere wooden pallet planks are used in making this wall shelf, there is a steel pipe on the top that is carrying this wooden pallet shelf. And the pallet planks are just bound together with a rope and hanging downward.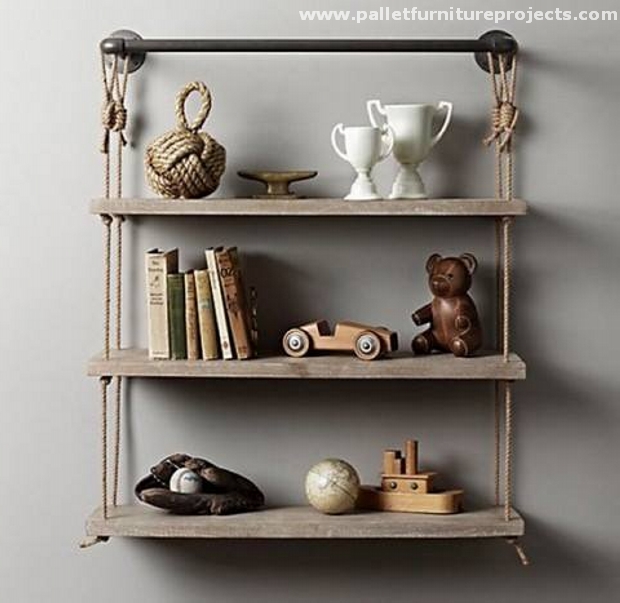 Wow, the wooden pallet wall shelves couldn't get simpler than this one. I mean you just have to cut the pallet planks into your desired size and shape, and install them with the help of metallic brackets in the wall. Just like one two three and you are all done.

Now here is the whole range of wooden pallet wall shelves here, this rectangular one, the straight wooden slabs, and the robust boxes all along the wall. Each and every one of them is made using the wooden pallet planks, but the value they have added to your room interior is simply matchless.

And lastly these straight and plain wooden pallet slabs installed along the wall. Place a large number of accessories on these wall pallet shelves. All of these pallet shelve attractions are pretty practical. I strongly recommend you people to atleast try one of them, and trust me you would not be disappointed.