Pallet Bed with Side Table
As you all know that our main focus throughout this website remains on pallet recycling. Pallet recycling is a sort of inspiration for us, and we keep on bringing you guys some ever new ideas of wooden pallet upcycling. So maintaining the legacy of our website, we bring you a pallet wooden bed along with a side table. A bed with a side table is a great accessory in any house hold as it would give you the freedom to place a lot of night time accessories on the side table so that you could just grab by extending your hand.
We have already worked on numerous wooden pallet bed ideas, but every time their plan and feasibility was different. Same is the case this time as well. There are a number of things that compel us to go for this pallet recycling, like the pallets are the cheapest timber available in the market. Plus we can plan and execute our ideas right in the way we desire. And their foremost feature is their cost, because when we go out there in the market to buy some furniture item, our wallet is emptied literally.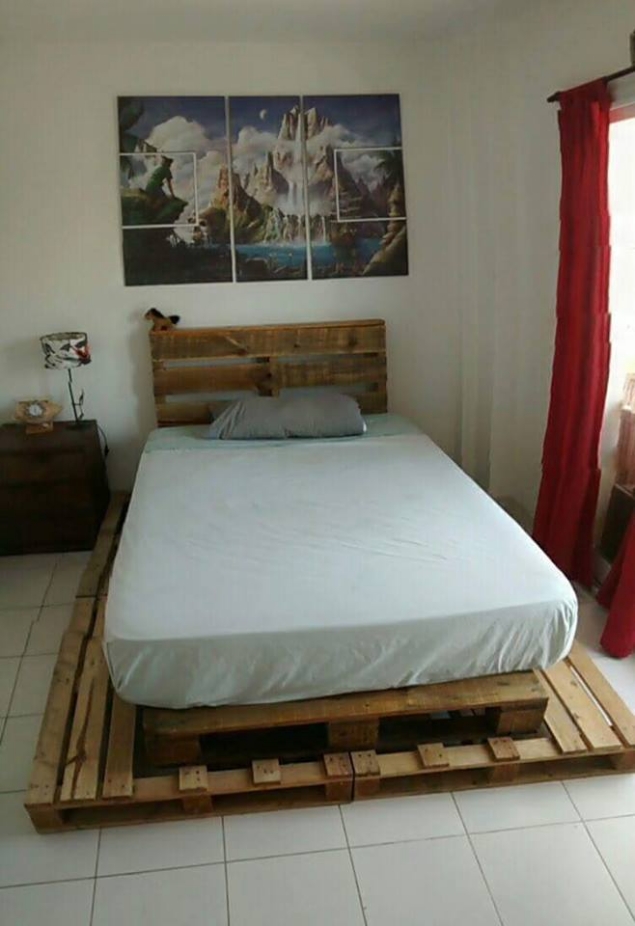 Lets have a look on the pallet bed and its wooden side tables. Whole bed frame is made up using the raw wooden pallets, even the giant headboard is also made using the pallet wood. And the beauty of this project is its ease and easy availability of the basic material that are pallets.

Having a view from front, it looks so great lying in the room complimenting the rest of the furniture as well. This is a huge and spacious bed along with side tables. Side tables which are an additional feature make it more practical and easy for us to use it in best possible way.