DIY Pallet Bench with Hanging Shelf
A bench is supposed to be a common kind of furniture that is normally used for sitting purpose. In this DIY article we are going to make a unique pallet bench with hanging shelf. Here we see a long and tall pallet wooden bench along with a hanging shelf below.
First of all we have to make two rectangular side frames which would support the entire bench. These rectangular basic frames are made using the wooden pallet planks after some fine sanding. Then they are drilled thrice on each opening and closing angles.

The close look of the basic frame shows that some long unconventional holes are drilled where relatively some longer steel screws could be screwed. These longer steel screws would ensure its strength making it able to carry the heavier weights. These 4 cm screws are made of very fine steel.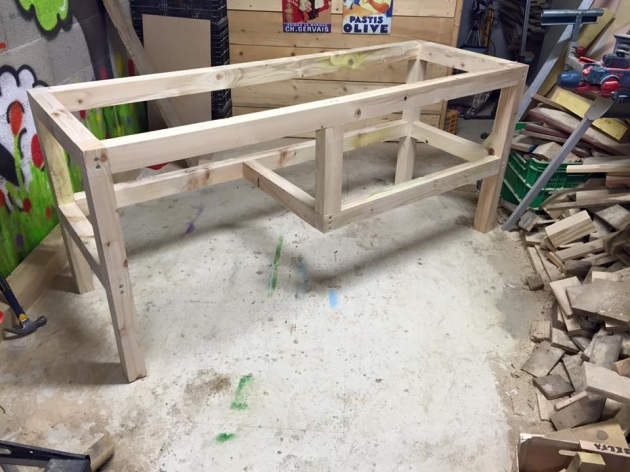 These rectangular basic frames are joined together with same long steel screws making a giant box shaped frame. On the below same pattern is applied to make an additional hanging shelf in order to make it much stronger and firm, use high quality glue on all the joints and leave it for a while to settle down.

Now we are going to fill up the empty spaces one by one with straight and sling wooden pallet planks. Start placing cut to size pallet wood planks one by one in a row and keep nailing them on both ends as shown in the picture below.

After we are done with the lower one, keep fixing the planks of pallet wood on upper portion as well. After you are done with it, do some very fine sanding to further enhance the charm of this wooden beauty. This DIY pallet bench and its hanging shelf is going to serve you in a great manner.