Upcycled Wood Pallet Furniture Ideas
When we started the wood pallet recycling, the very first thing that was in our mind was the preservation of the nature and its beauty by saving the cutting of trees. But as we kept working on various wood pallet recycling ideas we kept realizing that this is such a useful activity that it has also got many financial benefits too. We can make all our desired wooden furniture items while spending no money on it. Since then it has be an obsession. Let's have a look on various wood pallet recycling ideas that are extremely practical and beneficial as well.
This is some cornered part of the house which has an adjacent green landscape. We have prepared it in such a classic manner that the most of the area is covered with the wood pallet repurposed wooden deck, and then we have fixed couch one side of which is counted as the wooden grill.

Here again you have to focus on the basic wooden structures that are all made using the wood pallet planks. The fixed wood pallet couch is simply amazing, and the centre table is also unique as it is quite different from the routine wooden tables.

This entire open area in a pretty foggy and snowy place is entirely covered with the wood pallet work all around. The ultra huge wood pallet deck that is containing different wood pallet repurposed furniture items. This pallet land is really worth having a look, probably the most economically made sitting place.

Again this is some lavish sort of sitting space that is all stuffed with the wood pallet creations. First of all the large L shaped wood pallet couch is over shadowing the whole set up. Then a couple of single and double couches are also recycled along with the matching wood pallet coffee table.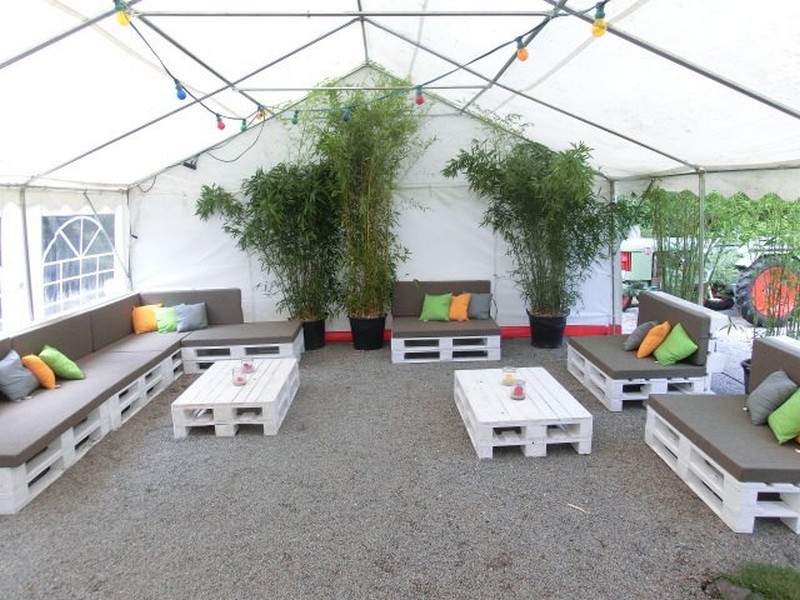 These sun loungers could be called rough and slightly ugly too, but don't just go for the outlook and don't misjudge them by mere looks, look at their potential utility while in the summer season. This sun lounger pair is going to be the place where you would love to spend your free time.

This sitting arrangement mainly consist of two major portions, one is the wooden pallet couch that is probably the simplest one. As far as the coffee table is concerned, it has got a really commendable style and fashion that is not so common.

All this begins with simple wooden pallets, whenever you have a reasonably huge amount of those whole shipping wood pallets you can always work on such genius schemes to turn them into some ideal wooden furniture ranges. As we did it here in this wood pallet project.

And here comes a simple yet decent wood pallet upcycled furniture range. Don't feel as if the whole lot of the pallets is so damn fresh, this is actually the resultant look that is created after a lot of finishing measures sanding and staining that made it look so perfect.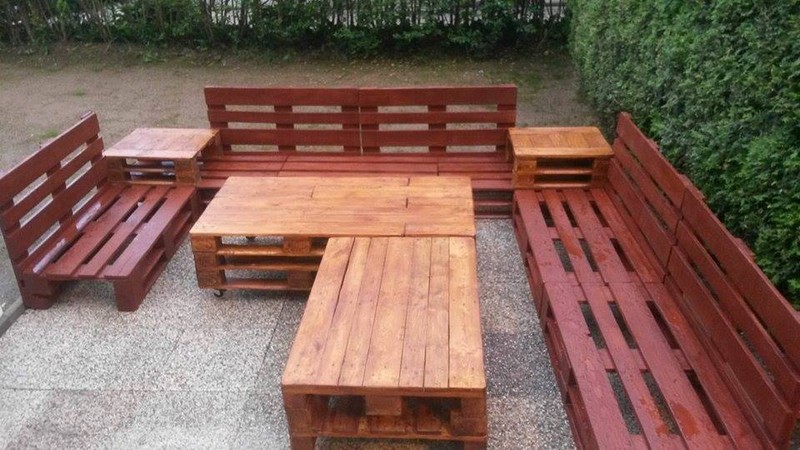 Never in your life you would have thought that even the kids bunk beds could get so modernized and stylish as well as this one. The entire wood pallet work in this project is simply phenomenal. The ground bed along with the first floor is pretty eye catching and appealing.

This is some real solid treatment given to your patio by mere wood pallet recycling. Not only the wooden furniture lying here is made with the wood pallets but also the fencing all around is done with the same wood pallet planks. This is the potential of this ordinary material.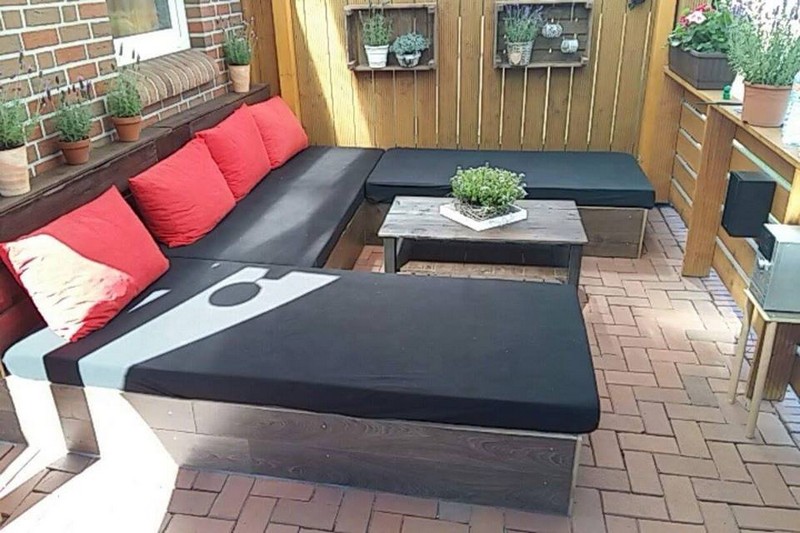 Adirondack chair inspiration has been so abundant in our pallet wood recycling ideas. But let me assure you, we have always maintained a certain individuality of each wooden pallet creation just like this one. While the table made with fruit crates is really complimenting the whole scene.

This entire setting of the lounge is done with the pallet wood creations. Be a cruel critique and tell me any flaws that come to your mind, I don't think they are any lesser that the market oriented wooden furniture items. Though you can still paint them nicely if you like so.

Wow, raise your hands who needs this stylish pallet wooden repurposed room bed along with the headboard? Who on planet earth would deny the beauty of this exquisite pallet creation. Above all the contrasting color scheme in the headboard is phenomenal. Now decide, you would buy from the market again or would you give this one a try?

This kind of casual sitting places whether cafes or bars are becoming so trendy. Many entrepreneurs are showing immense interest in the pallet wood creations now days as it has got so many benefits the most important of which is the saving of money.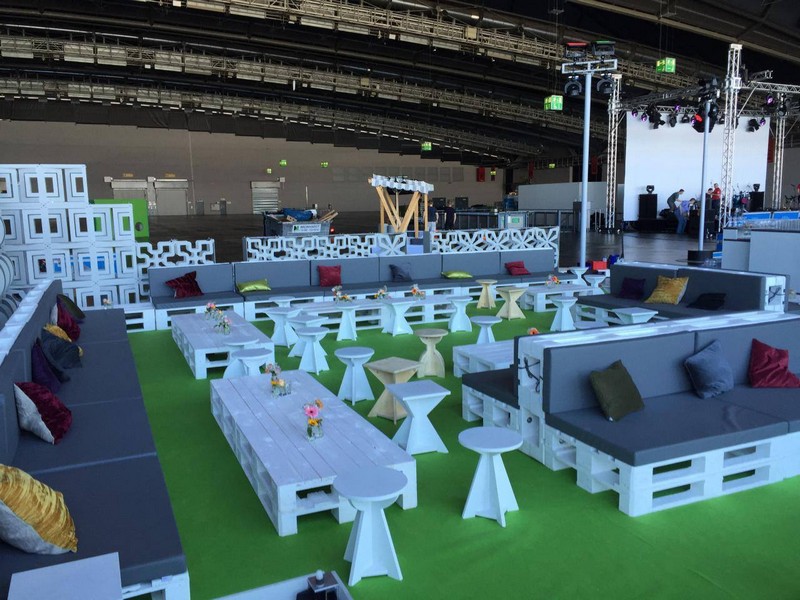 No matter how big or small area you have got to cover up with the wood pallet furniture items, when you are the creator yourself you can figure out your spaces and make the furniture in accordance. Coverage area is mostly an issue when some furniture is purchased from the market but this is not the case here with pallet creations.

Sometimes we just feel like sitting in isolation and read some book or do some other activity that appeases us. For this kind of activity this is an ideal situation where a plain chair along with the side table is placed.

Trust me even I am amazed to see this pallet wooden creation. We basically made it with a clear intention as a daybed. But when we were done with it, we realized that we have really made something phenomenally exclusive. This daybed isn't that sort of common one but incredibly smart and beautiful.

Lastly this L shaped huge pallet wood couch is again no exception. This has got it all, style shape and fashion. But one more thing that still needs to be explored and discussed is the storage space beneath the sitting space that is certainly good.