Recycled Wood Pallet Patio Bar
I think this project that we are going to do today must be dedicated to the pals who are fun loving and always want to party. They are always like in the search of some reason or excuse which could really create the atmosphere for a hollow get together or part. Though we have already created a couple of wooden pallet bars, but the buddies seem to never have enough of them. They are always like come on buddy, bring me some more of them. And in the reply we are also like hang on buddies, we are onto it.
This time we are going to present you guys an exceptionally great wooden pallet repurposed bar which reflects extreme skills and charm. It has got it all what it takes to be a perfect party furniture item. First of all the shape that would be used for it is very common for the party loving folks. This is already an exciting title that it holds. The pallet wood bar table. And we are also going to add a couple of features in it which are going to make it worth giving a try so guys wake up, this is party time.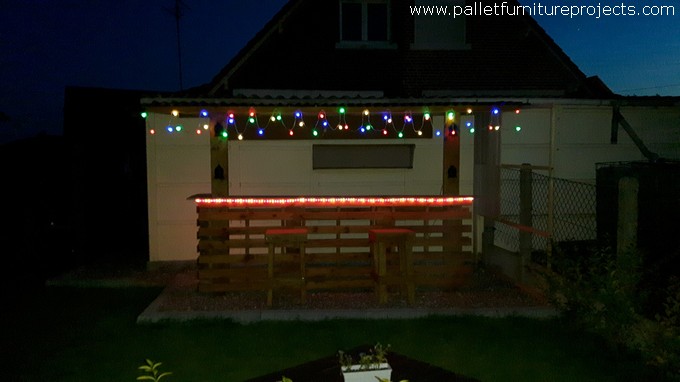 Just look at the already intoxicating atmosphere which is luring more and more people. We have done a little bit of colorful lighting work here to pour some more magic in the venue, to make it look more exciting. As far as the structure of the wooden bar table is concerned, we have used some broken shipping pallets that were considered to be of lesser value for some indoor wooden projects. Plus we also made a pair of the wooden pallet repurposed stools that are matching to the wooden bar table. I think the stage is set, bring on some music and ofcourse wine and let the party get started.

Created & Submitted By: Antoine Toinou Huleux