Genius Pallet Recreation Ideas
It certainly takes a genius to turn the ordinary wooden material that is used for the transportation of different goods, called shipping pallets, recycling into different wooden furniture items, garden décor ideas and many other wooden articles which we frequently use in the course of life. The wood pallet has transformed our lives, it has taught us how to exploit the shipping pallets in the best manner to make the best use out of them. It would be really fun to go through some genius pallet recreation ideas that would give you a glimpse of the basic pallet wood projects and how they are actually made.
You just color a piece of scrap with charming shades, and the kids would be more than happy with it. That means the colors are the best source to amuse the kids, that is why we have painted this wooden pallet kids sand box with the best color shades.

Have you ever seen such a wooden stove? I mean the combination of the wood along with the fire, how does it sound? Sounds great right? But when recycled in this way this would be an even better experience. Take care of your expensive stove in this way.

A TV cabinet can certainly be bought from the market, but I think when it would come to paying the price it would simply ruin your mood. So better than getting your mood off, be a macho man and try making this pallet wood upcycled TV cabinet in your personal domestic workshop.

And this seems to be some commercial venue like this is probably some marriage hall where the pallet wood bar tables are lined up. Certainly a huge number of guest are going to rush here tonight, and the pallet wooden upcycled tables would take best care of all of them.

Now this is rather a simpler shape and form of the wooden pallet recycled bar table for your patio. As we know this one was supposed to be used domestically in the patio, so we didn't bother much about the quality of the shipping pallets that we have used here.

In the earlier times transferring the stove to the patio really sounded so awkward and near to impossible, but I believe after seeing this genius pallet wood upcycled idea, this is no more a problem to arrange for a stove right in your patio.

Well, to stomach this kind of wood pallet work, you really have to be artistically pure and should be above the average audiences because this is something that cannot be digested by the common users. So this one is just for the ones who are real lover of wood pallet art work.

Do you remember when did we last recycle these wooden pallet blinders pr we call them separators? Well, just a couple of days back we have had recycled them in one of our article. They are needed in the large gatherings plus they also add a lot in the beauty of the place as well.

Here comes another simple and rustic wood pallet space divider which was made with the same intention. I think the way it is recycled, it would be used ideally domestically. Because to use it commercially we have to stain it properly.

And this smart wooden pallet closet is definitely needed in every house hold. We have got a lot of stuff at house which really needs to be taken care of like clothes, shoes, and other stuff. For all of that one single pallet wooden closet like this one would be just more than enough.

I really love this kind of smart pallet wooden creations which ensure maximum utility and capture the least space inside the house. Considering this pallet wood bed that is portable and can be folded back, I think this would be a great idea to make this bed.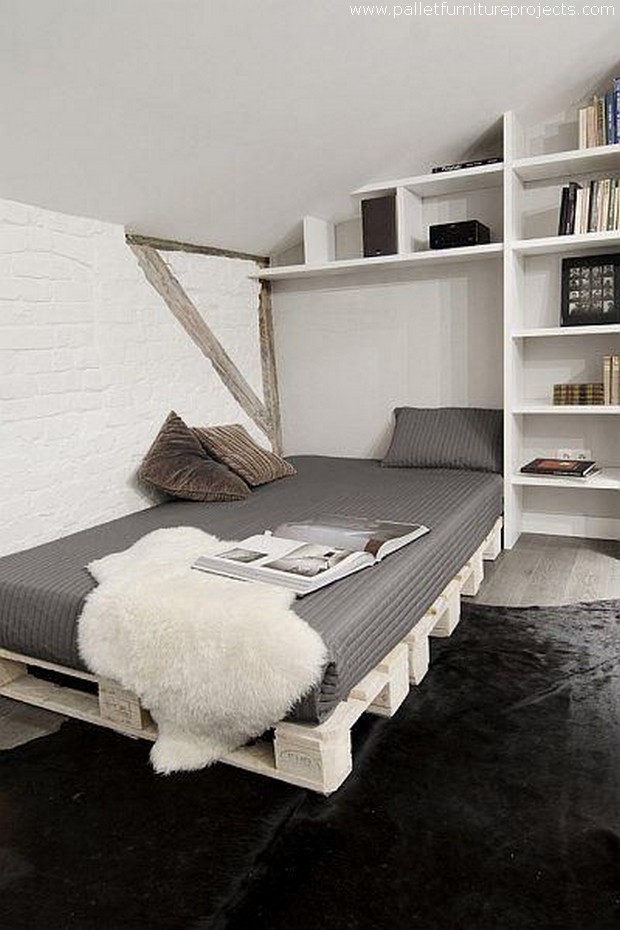 This kind of sinks can certainly not be tolerated inside the house, but if installed in the patio or garden this would add up much to that place. While doing gardening or such stuff, come and wash your hand here. All the material used here was partially reclaimed and the rest was the wood pallet.

Mud kitchen are basically made for the amusement of your kids. Just make them in such a manner that when the kids are not upto their favorite activity, these pallet wooden creations could be used for some other tasks as well. And we have designed it accordingly.

How about this coffee table that is again made using the same shipping pallets which is the prime material in most of our creations? This can be matched to any kind of branded wooden coffee table because it has got all the essential feature that are needed by us.

Looking at this outdoor pallet wood table, I immediately made up my mind that I have lined it up for the next wood pallet project of mine. It has got customized portions where wine bottles can be placed. Plus the top can be used as a regular wooden pallet table top.

Pondering upon this entire room we figure out that there is literally the pallet wood all around the room. The pallet planks are everywhere, we see the wooden flooring, piling on the wall did with the same pallet wood planks, no need of further interior embellishments.

Now have a look on this pallet wooden sand box. Well, this is not that kind of typical wood pallet sand box which we see every here and there but it has got its own fashion and charm that is simply unmatched. This would just make your kids more than happy.

And to have a proper wooden shoe rack ensures the fact that your room doesn't get nasty again once you are done with the cleaning because dust comes with the shoes mostly. So when the shoes would be placed inside the shoe rack, possibility of room getting nasty again might simply be ruled out.